Fletcher's got the music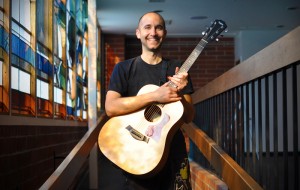 It seems like whenever you turn on the radio or listen to your iPod, all you hear is music that has been auto-tuned. Some might even say that auto-tune has killed live music.
Graduating senior Russell Fletcher has taken on the task of proving that live music is still kicking.
Fletcher was born in Anaheim, Calif., but two weeks after, his family moved to Lakeport, Calif. where his musical journey began.
"I have been in love with music of all kinds as far back as I can remember," Fletcher said.
Fletcher has been immersed in music ranging from church hymns, school choirs, rock bands and musicals.
Last year, Fletcher was the male lead of California Lutheran University's first opera, "Dido and Aeneas."
"There is such joy in [Fletcher] when he sings, not only in his face, but in his whole presence," said religion professor Dr. Colleen Windham-Hughes, who has a doctorate in theology. "You can feel the meaning of the words because of how he connects with them and conveys them."
However, music isn't the only love Fletcher has in his life.
Right after he graduated high school, Fletcher followed his brother to Denver, Colo., where he met his wife, Amy.
The couple has been married for 12 years, supporting each other in whatever dreams they wanted to pursue throughout their marriage. Amy also shares a love of music, possibly adding to the couple's compatibility.
While in Denver, Fletcher formed the band "Copilot," but after spending some time there, Fletcher decided that he wanted to continue his musical journey in Nashville, Tennessee. Seven months later, the Fletchers decided to move to California.
After settling in to Santa Barbara, Fletcher began his seven-year musical education at Santa Barbara Community College.  He worked part time and went to school part time in order to pay the bills.
"When I finally reached the point where I couldn't continue to work 32 hours a week and also doing school part time, I came here," Fletcher said.
Thanks to his support system, Fletcher doesn't have any loans to pay back after he graduates.
"When you're married you help each other out… early on, I was the primary bread winner and she was doing music and working part time and now it's flipped," Fletcher said.
Fletcher also received the CLU Guarantee Scholarship because he was accepted into University of California, Santa Barbara, which has made it possible for him to attend.
After graduation, Fletcher will continue his musical journey in higher education, seeking a masters degree in music with an emphasis in choral conducting at the University of New Mexico.
"I love working with people. I love interacting with people. People are what energize me," Fletcher said.
While attending CLU, Fletcher has worked in Media Services on campus as well as at St. Julie Billiart Church in Newbury Park, Calif. and St. Patrick's Episcopal Church in Thousand Oaks, Calif.. Fletcher was also the vice president of the CLU choir this past year.
"[Fletcher] is very passionate and engaged with multiple functions around the school," music professor Jessica Helms said.
Helms will be accompanying Fletcher on the piano for his senior recital and junior Patricia Jaramillo will sing with him.
Fletcher's senior recital will be held in the Samuelson Chapel on May 10 at 7 p.m.
He will be performing music by classical composers such as Bizet, Dowland, Finzi, Mozart, Sondheim and Schumann. Admission is free and a reception will follow the performance.
Katy Sullivan
Staff Writer
Published May 7, 2014