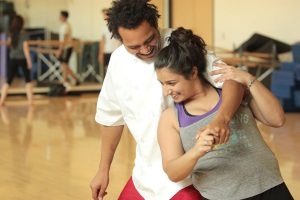 The music started and the choreographer counted them off. Five, six, seven, eight. The energy was explosive.
From the dancers' fingertips to their toes, they radiated raw emotion throughout their movements and routine.
"I'm realizing the power that dance and choreography have and it's really inspiring to be a part of this," junior theatre arts major Seta Wainiqolo said. "Discovering that I can move a certain way and make people feel certain emotions is such a powerful feeling."
In fall 2013, California Lutheran University theatre arts professor Barbara Wegher-Thompson taught the first introduction to dance class at CLU. The class was so successful it was picked up for future years. Wegher-Thompson was then inspired to start a choreography class, which was offered for the first time in spring 2014. Now, the choreography students will present their inaugural Moving Images dance recital.
"I have been working at CLU for almost 30 years and this is the class that I have always wanted to teach," Wegher-Thompson said. "The theatre department has been trying to build more dance into the major."
"I have danced on and off as a kid. I got back into dancing and got more serious about dancing when I started college. I took this class as a breather class," sophomore Genesis Rodriguez said. "Out of all my classes, this class allows me to be creative. It's really about expressive choreography, which allows me to channel a different type of creativity I haven't really worked with."
Choreography is directly translated from its Greek root,  meaning "dance writing." Choreography allows for the transformation of ideas from a choreographer's mind to a dancer's body.
It also allows for infinite combinations of movements to be made. Most routines are created like a story in order to get the intention of the piece portrayed to the audience. To create that story, you have to start with an image.
"The early assignments in the class dealt with using imagery as a source for creating movement," Wegher-Thompson said. "What choreography first and foremost is, is having something of value that you are personally connected to, to then express through movement. We spent a lot of time as a class trying to figure out what is unique to the students' lives and what can touch all of humanity."
Wainiqolo started with the image of a blood lily growing from a seed into a flower after being inspired by a video she saw and began choreographing from there.
"'Lis De Sang' is a time lapse of when a blood lily starts as a seed and blooms into a fire-ball lily… It emulates a human's transformation. My dance is a duet and each person is a separate flower going through their own transformation," Wainiqolo said.
The requirement for the recital was for students to create an original dance number. Each piece needed at least two dancers and the choreographer was not allowed to be in the performance.
"My favorite part of this class has been making my piece and watching it happen," Rodriguez said. "'The Anchor That Drowns Her' is a duet that depicts a story of the inner struggles of a young woman after a relationship is over."
Moving Images is on May 9 and 10 at 8 p.m. in the Preus-Brandt Forum. Admission is free, so come and watch the stories unfold.
Drew Thomas
Staff Writer
Published May 7, 2014