There's a form for that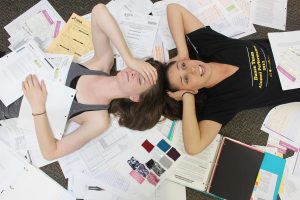 Joining a club can provide one with a variety of new experiences. Meeting new people, visiting new places and learning about a subject with others who share the same interests are just a few benefits. However, there are other aspects of clubs that are much less exciting, such as paperwork.
In order for a club to go on a trip, bring food onto campus or have a guest speaker, it would need to fill out necessary paperwork. This paperwork, while menial to complete, is put in place to protect both students and the university.
According to Jaime Faucher, the coordinator for Transitional and Leadership Development Programs at California Lutheran University, forms like travel waivers and insurance from restaurants are necessary for emergencies. If a restaurant were to cater food on campus and people got sick from it, they would need to be help liable, instead of CLU.
"If we don't get the [necessary paperwork for an event] on time, then we will have to cancel the event," Faucher said.
"While paperwork can be a hassle sometimes, it is good to know that the university has our best intentions, and that we're not filling out forms that are pointless," said sophomore Reed Nothwang, who is a member of CLU's Economics Club.
Some clubs need to fill out more forms than others, depending on how many events they hold.
Kayla Peralta, who is president of CLU's dance team, said that activity clubs like the dance team need to worry about paperwork and budgets more than other clubs.
"I understand [why paperwork is necessary], but it's just extremely difficult because of how long it takes to get it all filed and make sure it's all secure," Peralta said. Paperwork also forces members of the team to be more responsible and accountable.
"One issue we had is getting our reimbursement forms. Everyone has to keep their receipts, because if we travel, we get reimbursed for gas, so it's just a matter of making the people reliable to turn in their own paperwork," Peralta said.
The dance team has also had to deal with budget issues on top of the paperwork.
"A couple of my friends are in [other clubs] and they're at the point where they just need to spend money, and we're at the point where we've run out of money," Peralta said.
While some clubs have had issues with turning in paperwork on time, most of them have made Faucher's first year at CLU less difficult than it could have been.
"Turning in our paperwork on time wasn't really an issue because we knew that was extremely important to us," Peralta said.
"The clubs in general have been great to work with this year and it's definitely a learning process," Faucher said.
While club business may seem easy, it is time consuming and it may require a lot of effort from presidents to make sure their clubs remain functioning and adhere to the many rules and regulations.
Ramsey Abushahla
Staff Writer
Published May 7, 2014