Coming to you from Warner Brothers studios… it's Cherry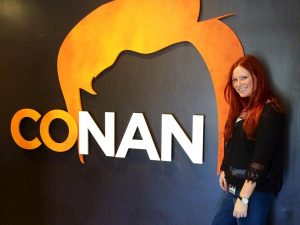 California Lutheran University junior Isabella Cherry is an intern for Conan O'Brien's late night talk show "Conan" this semester at Warner Brothers Studios in Burbank.
Cherry is the production intern and helps with every aspect of the show, working about 40 hours a week starting at 8 a.m. and ending around 8 p.m.
"I'm a comm major with an emphasis in television production, so it is exactly what I want to do," Cherry said.
According to Cherry, working for O'Brien is a great way to get into the industry for students studying television and film.
"There are a lot of people from the east coast that fly here and live here for the semester just to work for Conan," Cherry said. "It's cool because we are on the Warner Brothers lot so we film by 'Ellen,' 'Big Bang Theory' and 'Pretty Little Liars' is right next door to us. You never know what you're going to see on set that day."
Another intern also working for O'Brien asked not to be identified because of the confidentiality agreements he signed with the show.
"You learn a lot. It's all mostly hands on stuff, plus insight on how things run," Anonymous said. "I like it because it's like family once you're in. At first it's weird because you're surrounded by all these professionals but they are all big kids."
The show has become the number one priority in Cherry's life and is extremely time consuming. She has 12-hour days at "Conan" on top of her course load at CLU.
"That job has to be a priority in your life. You do things at the drop of a hat and deal with a lot of schedule changes. It's a hectic schedule," Anonymous said.
Interns have so much to do with the behind the scenes aspects of the show. Cherry said they get the producers breakfast and coffee in the morning, run errands, set up the green room for the guests, give guests gift baskets, clean and do paperwork, all before lunch or rehearsal begins.
"We go sit where the audience sits and Conan tests out his monologue and jokes on us. The band also performs for us," Cherry said. "We stand in for him or whoever the guests are to test the lighting."
Cherry personally assists O'Brien throughout the day answering his phone and getting whatever he needs. Before the show, she gets the audience checked in and situated. During the actual show, she stays in the green room telling the guests when it is their time to go on stage.
"You learn a lot about how they film the show. All the details that go into how the crowd work goes and things that go on before the show," Anonymous said. "We do the dirty work, such as going through 12 seasons of 'The King of Queens' for clips of Patton Oswalt. We do things that are time consuming so the people that actually work there focus everything on the show."
The production interns have found that "Conan" has taught them more about how the industry works.
"Things are super professional there as much as they are fun. It makes you want to be better. It's a great adult setting," Anonymous said. "You thought you knew how a show runs but in reality, you had no idea. But it's great. You can network with some very important people."
Every communication student needs to validate their internship by taking a corresponding class.  The internship class takes away the stress and worry of life after graduation, according to graduating senior Katie Ragusin, who is in the internship class with Cherry.
"If they like you, you'll most likely get hired or you'll get a reference for somewhere else in the field that you're interested in. It forces you into the job field, if you're scared, to get your feet wet," Ragusin said.
"For the industry, it is a great thing to have on your resume and build a lot of experience. Everyone knows and loves Conan," Anonymous said.
It will be difficult to get another job with someone as big as O'Brien, but his production company, Conaco, has helped interns get jobs at smaller shows, such as "The Pete Holmes Show."
According to Cherry, working at Conan "was a great opportunity and interesting every single day."  She looks forward to working in TV production when she graduates in December.
Shannon Cullen
Staff Writer
Published may 7, 2014