CLU switches to new meal plan system
Following the opening of the new Ullman Dining Commons come new rules and regulations to the meal plan.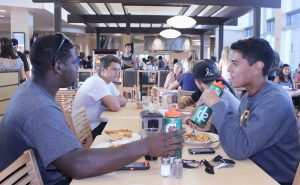 All residents living on campus, aside from those residing in the apartment style dormitories, are required to purchase a meal plan. This mandatory fee no longer includes unlimited meal swipes, and further imposes time periods in which the students may use the food vendors being offered on campus.
"Last year, the meal plan was more relaxed and the students using multiple swipes for individual meals was never envisioned. The Centrum could not handle the volume of students at one time," Director of Auxiliaries Thomas Visvikis said.
In an effort to resolve this issue, scheduled time slots have been assigned that allow a student to enter an on-campus food site up to four times per day. "We are paying for these meals, so I believe we should be able to choose when and where we want to use them. We're all college students, our schedules are crazy, and now we have to make time to eat," sophomore Miranda Hutt said.
Although the number of swipes is now controlled, over nine different options of meals are now being presented and cooked by executive chefs inside the commons. "Building this type of facility has allowed us as a food service to be able to do a lot more as far as the increase of food quality," Sodexo Resource Manager Brenan Connolly said.
Accompanying each meal period are fully stacked breakfast, lunch, and dinner bars, along with a variety of entrees students of all eating habits can choose from. "This year looks like a take away for everybody… There are plans designed for every student to be able to use, and all venues are open," Visvikis said.
Ullman Dining Commons General Manager Patti Yantzer said the new Ullman Commons and registered meal plan system are in place to to encourage students to make this a meeting place and to gain as much participation as possible to make the commons a good community outlet.
With the new meal plans in use and a completely remodeled dining cafeteria, there has been an increase in daily meal counts. There is also a significantly higher participation in the meal plan system as compared to previous years. The result to the Sodexo and Cal Lutheran staff is a positive one, as they are able to monitor the number of swipes per student, while still being able to create a desirable and social gathering spot.
Student focus groups are currently being created in the Residence Life Office that directly participate and influence the future of the Ullman Dining Commons and meal plan regulations. Visvikis said as student focus groups are developed throughout the year, Cal Lutheran could always fine-tune what is currently present regarding food options, and/or meal plan guidelines if need be.
The new eco-friendly and technologically enhanced dining commons is now open to students for breakfast, lunch, dinner and even a late-night snack. Cal Lutheran encourages students to take advantage of the prime food options available and to appreciate how the new meal plan system educates the users on the latest rules and regulations.
Jessy Corsello
Staff Writer
Published September 17, 2014