With all the changes made to areas on the campus over the summer, the Forrest Fitness Center in the Gilbert Sports and Fitness Center was one to see many.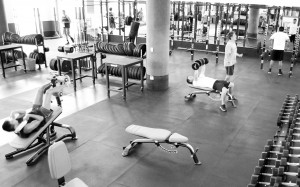 The previously cluttered weight room has been redesigned to better accommodate the needs of the students and student athletes of the school.
Dr. Patrick Holmberg, the assistant director of athletic performance, said the overall goal was to make the room a more "functional space."
One of the steps was to replace the equipment with new machines. The old machines had been there since 2006 when the gym first opened. The upgraded equipment is now able to serve more than one purpose, which eliminates the need for many machines that once crowded the floor. The equipment was brought in Aug. 28 and only took a day to install.
The new space can now be used for certain lifts that utilize the new installation of the rubber floors and wood, rather than the carpet. The installation of the floors started right after graduation and took approximately a week to put in.
These mats better protect the floor from damage of dropped weights. "What I wanted to do from an athletic perspective was have platforms that were not above ground so we didn't lose space, but rather built into the ground so that space is still available," Holmberg said.
With the floor renovations, there is no need for the platforms and the lifts that once required the platforms can now be performed on the open floors.
Certain designs have also proven more efficient, such as the plates that were once stacked one on top of the other are now lined up in rows for easier access. There has also been the addition of extra bars to use specifically for lifts that do not require the squat racks.
"The layout looks a lot better, there's more space and the colors look nice. The vibe is different and it seems like more people are enjoying it," football player Nathaniel Thompson said.
Possible future changes to the fitness center may include gradual replacement of cardio machines upstairs such as treadmills and ellipticals. Holmberg said they are always looking for ways they can upgrade and enhance the student experience.
The gym staff requirements have also been taken into account. "Over summer our supervisors changed our job description so that there is a bigger emphasis on making sure that all staff members are more focused on keeping the gym a clean and safe environment at all times. They've also changed things to help us work in a more professional manner than previous years," Amanda Hamilton, a student employee at the Forrest Fitness Center, said in an email interview.
The fitness center hours for the fall semester are Monday through Thursday, 6 a.m. to 9 p.m. on Fridays, 11 a.m. to 9 p.m. on Saturdays, and 11 a.m. to 11 p.m. on Sundays.
Dianna Rohrer
Staff Writer
Published September 17, 2014