Get Out and Vote!
Everyone sees the "I voted!" stickers that people wear on an early Tuesday in November. Voters proudly wear these to show that they responded to their civic duty that day and cast a ballot.
Unfortunately, only 27.8 percent of people age 18 to 29 could actually show off their stickers after the last California midterm in 2010 according to civicyouth.org. Even though this age group makes up 21 percent of the eligible voting population, less than a third of them actually turned out to vote.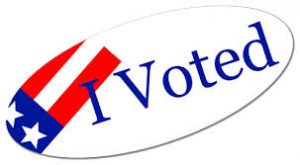 In a time where a majority our age group is able to vote, not many do. According to California state law, unless a person is a felon or is mentally incompetent, any U.S. citizen over 18 is able to make their voice heard by registering.
This ability to vote has not always been a reality for many groups of people including women and African-Americans. Women have only been able to vote since the 19th Amendment was ratified in 1920 and African-Americans gained the right once the Voting Rights Act of 1965 was passed.
"Up until 100 years ago I wouldn't have been able to vote…it feels wasteful and ungrateful not to." said Samantha Winters, a junior at California Lutheran University.
The fact that many people once did not have suffrage gives citizens all the more reason to use their power in this upcoming election.
"It's important for everyone to have a voice," said Jared Smith, chairman of the California Lutheran College Republicans. "If we don't, as a people, vote for how our government runs, then the government can't adequately represent us."
Voters age 30 and over had a 52.9 percent voter turnout in the 2010 midterm according to civicyouth.org. There was a much higher number than the 27.8 percent voter turnout for the 18 to 19 age bracket. People in older age groups are making the decisions with more influence than younger voters who have a much smaller turnout.
"We're going to be inheriting this country," said Christopher Hanna, vice chair for the California Lutheran College Republicans. "I feel like [people who do not vote] don't really understand the power that your vote has."
Despite this, many people in our age group remain uninterested in politics. A poll by civicyouth.org shows that 45 percent of 18-29 year olds did not register to vote due to a lack of interest.
"We, the millennials, are the future," Smith said. "I just don't think it makes sense as a generation to sit by and let the political world shape itself to something that we could possibly not like."
Elections give people the opportunity to pick exactly how they wish to be represented. They can choose precisely who runs their state as well as vote on propositions that affect how the money is spent and how their lives will be affected. The Nov. 4 election lets voters have direct say in their government with options for governor, secretary of state and treasurer among other positions. In addition to government officials, voters have a say in propositions on health care insurance rates, state budget and water improvement to face the significant drought in California. A list of local issues can be found at smartvoter.org.
Luckily, registering to vote is simple. California residents can visit registertovote.ca.gov to register online, or visit the DMV for a paper application. All you need is a California driver's license and the last four digits of your social security number. The deadline to apply is 15 days before the election, or Oct. 20.
Mail in ballots can be requested up until Oct. 28 but must be delivered seven days before the election. Requests for this ballot can be printed online from www.sos.ca.gov after you have become a registered voter. These forums are also available in different languages. Once completed, this application can be taken or mailed to your local county elections official.
No matter your political affiliation, the important thing is to make your voice heard. It does not matter the way in which you vote, but that you cast a vote. Use your right in the upcoming Nov. 4 election.
Allie Leslie
Published on September 17, 2014