Football looking to bounce back
After a disappointing 2013 campaign, the 2014 Kingsmen football team is looking to return to their winning ways.
A renewed team spirit and work ethic will be the key to California Lutheran University's successful football season this year, according to head coach Ben McEnroe.
The Kingsmen suffered a close 35-28 loss to Pacific Lutheran University in Washington on Saturday night in their first game of the season. McEnroe said that while this game would not have a lasting impact on the direction of the season, it would be an opportunity to see how far the team has come since last year.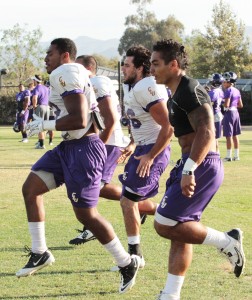 McEnroe feels that the team's biggest improvement since last year is not necessarily one in the technicalities of football. This year's team reminds him of teams from the past.
"The improvement of the energy, the renewed spirit and the work ethic the guys have brought through spring football and through training camp has really been nice to see again. It feels a lot like our teams did back in 2009 and 2010, when we had young, confident, talented football teams," McEnroe said.
Junior starting wide receiver Andrew Worthley agrees that this season the team has better chemistry than in the past.
"We had a lot of talent last year but we really didn't click as a team," Worthley said. He said that this year, the team feels more like a family.
With the first game under their belt, the Kingsmen will take on the Williamette Bearcats this weekend. This will be the last non-conference game of the Kingsmen's schedule. Worthley said that every game is as important as the next, in terms of regular season games.
"We're only guaranteed nine games… so every game is pretty special," Worthley said.
Like many Cal Lutheran students, Worthley is excited about the anticipated rivalry matchup with Redlands on Saturday, Oct. 11 already.
"Like always, our Redlands game is always a real big deal, big rivalry, it's a lot of fun. We always get real excited for it," Worthley said.
McEnroe said he gets fired up for every game, but he has a few games in particular on his mind too, remembering last year's losses to Occidental College and Chapman University.
"I'm looking forward to Oxy and Chapman coming up to our place after what happened last year. We remember all the Gatorade showers and ice buckets being dumped on our coaches after we got beat last year. We don't forget that stuff," McEnroe said. Key new players will be integrated into the team this year on both the offense and defense, McEnroe said.
"Over on the defensive side of the deck, quite a few freshman are going to make their debut… we're excited about all of the new guys and the young guys that are playing early on for us this year," McEnroe said.
One of those new guys is quarterback Nick Isham, a transfer from the University of Arizona.                "After leaving (Arizona), I was looking at my different options and in terms of transfer rules and everything, CLU looked like the perfect option for me… I couldn't be happier being here and playing for Coach (McEnroe) and Coach Rich," Isham said on his decision to come to Cal Lutheran.
Isham split time under center with returning starting quarterback David Rico on Saturday night. Isham said that he is happy to split time with Rico for now.
"Whatever the coaches have planned, that's what we're going to do, and I'm on board with that…we're just here to win games, so whatever they think is the best way for us to win games, that's what we're going to do. I'm ready to put in all my effort in order to win the next game," Isham said.
The team has been busy throughout the summer and first few weeks of school in preparation for this season. Coach McEnroe said that the boys are up working from sunrise to right before the sun sets.
"We talk about being all-in… and these guys have to be all in with the schedule," McEnroe said.
McEnroe said the athletes have meetings beginning at 6:45 a.m. and aren't out of practice until around 5:30 p.m. After morning meetings and lifting, the team is off to classes and work. They return for practice at 3:30 p.m.
According to both Worthley and McEnroe, this season should be an exciting one for Cal Lutheran football fans. The team has been working hard to put up a fight every weekend and get closer to their goal of a conference championship.
On Sept. 20 Cal Lutheran will take on the Williamette Bearcats at home at 12:00 p.m.
Rachel Maurer
Staff Writer
Published on September 17, 2014