For your entertainment
Get ready to throw up your feet, enjoy a warm pumpkin spice latte, and watch your favorite television premiers this fall with your friends who are just as devoted as you. From family laughter to finding justice, Hollywood has you in for the long haul.
"Well personally once I'm hooked to a show I'm completely hooked. I normally get together with my friends and watch all my favorite shows during the weekend when I am free," said Isabella Cherry, California Lutheran University communication major with an emphasis in TV production.
The final season of, "Sons of Anarchy" premiered on Sept. 9, throughout the premier fans and cast members were tweeting #FinalRide. The crew expressed their appreciation for all their fans' support by creating videos before the premier.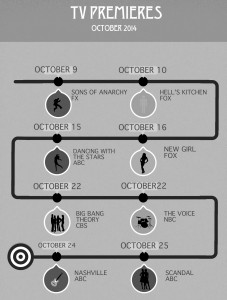 As summer ends and fall approaches, it's time for the most popular shows to start up again and friends to gather and enjoy their favorite shows and casts.
Starting Monday Sept. 22, "The Big Bang Theory" is coming back with a full hour premier kicking off season eight. From new hairstyles, to career changes and relationship improvements, this season is bringing a rapid change in pace.
The premier is on a Monday but as of Oct. 30, the episodes will return to their normal Thursday evening program time.
Starting Wednesday Sept. 24 "Nashville" season three is returning to ABC. Get ready with your cowboy boots and country music because Florida Georgia Line is performing live with Charles Esten, who portrays the character of Deacon Claybourne. As the last season ended with Rayna James torn between two men, find out who she choses in the premier.
CBS is not wasting any time with their season premiers. Coming Oct. 1, "Criminal Minds" is returning for their 10th season with a new agent Kate Callahan who is an undercover FBI agent. With the relationships that this show has created between the cast and their fans, some are skeptical about bringing on yet another new crew member.
"I am most excited to see how the new agent character is going to develop and evolve. I'm anxious to see if she's going to fit in with the already established characters or if she will be out-casted," Cal Lutheran senior Makenzie Perry said.
Another show to keep a lookout for is "Scandal" on ABC. The very fashion forward Olivia Pope, the famous fixer for the White House, will be taking over the television screen on Sept. 25.
Finally, for all you zombie lovers, "The Walking Dead" season five is premiering on Oct. 12 on AMC with 16 episodes. However, only the first eight episodes will be showing this fall and the last won't be available for air until midseason 2015.
Cal Lutheran students that are worried about missing these premiers because of the Time Warner Cable issues on campus no longer have to worry because you can catch these premiers online with their laptops and cozy on up with your roommates and friends.
"I   always love the way that premiers start to answer so many questions yet create so many more," senior Taryn Weller said. "My friends and I obsess over every detail in the shows."
Erin Chisolm
Senior Writer
Published September 24, 2014