Your bags are packed, tickets have been purchased and your passport is ready to garner a new stamp from a foreign country. All that stands in your way is a 13-hour flight to China.
For a group of California Lutheran University students and professors, this was their reality as they boarded a plane to China in May.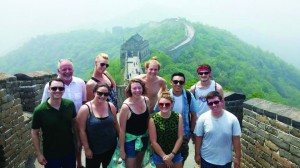 Ryan Medders, instructor of communications, and Debby Chang, a lecturer in the languages and culture department, taught a travel seminar class during the spring semester of 2014. It focused on Chinese media and culture and how it compares to Western media and culture. The class consisted of learning all about the country, and then traveling to the country for two weeks after the semester ended.
A group of communication and Chinese majors embarked on this trip with Medders and Chang to enhance their knowledge of China. Ryder Christ and Graham Jameson were a couple of the students who were able to attend.
"Most of us on campus either can't afford to study abroad for a whole semester or a whole year," Christ said.
When he found out that it was cheaper and during the summer, he saw it as the perfect opportunity.
Jameson has traveled a lot, but something about this seminar intrigued him.
"I wanted to go somewhere that was drastically different from the United States," Jameson said. "Being thrown in such a different environment when you're so used to how America is, it really just kind of changes your perspective on the world."
Medders met Chang his first semester at Cal Lutheran and they immediately knew that they wanted to go on this trip together. "I love to travel. When I was in college, I had a chance to study abroad and it had such a profound impact on me that I wanted to be a part of the experience here at CLU," Medders said.
"[The group] was very diverse. It's not like other study abroad programs. You're going to the country and as a group you're going to study media there. The more we read about what we were going to see, the more hyped up we got," Christ said.
Besides traveling to the Great Wall, the Forbidden City and other tourist attractions, the group of students' main focus was to go to China Central Television. CCTV is the official broadcasting station in China and is owned by the government.
They had hands-on experience and found out what it was like to work for an actual television station. They saw the new headquarters, but it was also difficult to deal with the restrictions on foreigners.
"The news is very highly censored and there's very restricted access. We were the first foreigners outside of China to be allowed inside of the CCTV building in well over six months since the time we got there," Jameson said.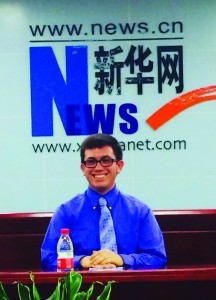 They also had the opportunity to go to a film studio and see a filming of one of China's television shows. They met with a couple of social media companies, including Tencent, one of the largest social networks in the world.
"Some of us were film majors and some of us were television majors. . . We each had an emphasis on why we were going and so my emphasis, being a TV production major, was CCTV and so before I went I studied citizen journalism," Christ said.
Medders has traveled to China before, but had quite a different experience this time.
"This was only my second trip to the country and it had changed so much since I was there. Seeing it through the student's eyes was just so invigorating," Medders said. "It reminded me of the excitement that I felt when I first went overseas and experienced new things."
Professor Medders saw co-leading the trip as a great responsibility but had a lot of fun. Since the trip was for academic purposes, the students also led discussions during dinnertime.
"I was so impressed with the maturity and openness to experience that the students approached every interaction with," Medders said. "It was a lovely experience."
Isabel Kirsch
Staff Writer
Published September 24, 2014