Lessons learned from an 8-year-old
The Kingsmen soccer team have a new player on-board, however you will not see him on the field. He is 8-year-old Dylan Roslauski. Dylan was diagnosed with acute Lymphoblastic Lymphoma in August 2012 and just finished treatment in August 2014, according to his father Robert Roslauski.
The Kingsmen took Dylan in as a part of the team over the summer through a program called MVP Sports Draft, which according to cancerfitinc.com matches pediatric cancer patients with sports teams in their area.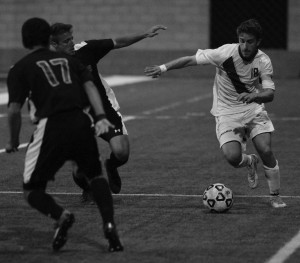 You can find Dylan on the field during practices and on the bench with the team during home games.
"It means a lot to Dylan. He loves getting out there with the guys. For us as parents, we just enjoy seeing him happy and not thinking about what he has gone through. The Cal Lutheran soccer team are a great bunch of guys. We are so thankful Dylan was drafted by them," Roslauski said.
The team has taken Dylan in as one of their own, and treated him just like any other teammate. Junior co-captain Alex Wardle has grown especially close to Dylan.
"Having Dylan on the bench with us is such a blessing to us. Dylan has taught me that there are bigger worries in life that I cannot comprehend. He's full of life and definitely shows it to those around him," Wardle said.
Even with Dylan on the sideline with the team it was not enough to pull out a victory against the Whittier Poets on Wednesday, Sept. 17. The game ended in double overtime in a 1-1 draw.
"I'm very proud about our team's performance… I was proud we kept our composure even when we went down one player then two players in a golden goal situation we held and we earned a point," Kingsmen coach Dan Kuntz said.
The game was very physical, with a combined 42 fouls, nine yellow cards and two red cards.
The Poets took an early lead scoring in the 12th minute of the match. However the Kingsmen would come back in the same half with a goal of their own in the 31st minute by junior forward Nick Baldi.
That was all the scoring for the rest of the game. Each team took 11 shots, with the Kingsmen having three shots on goal while the Poets only had two. The Kingsmen defense kept them in the game with a pair of saves late in the game to keep the score at one a piece.
"I think the team showed resilience throughout the game and in overtime. We always try to play as hard as we can especially when we are on our home field. We could have moved the ball better and communication can always improve," Wardle said.
Dylan was an honorary captain on Saturday night's game against Pomona-Pitzer and walked out with Wardle and Tal Zaiet for the coin toss.
The Kingsmen soccer team teamed up with Cancer Fit, Inc. to support childhood cancer awareness.
Christ Whitmer
Staff Writer
Published September 24, 2014