Put the phone down, it can wait
Technology was created to make life easier and to ensure that multitasking could be done more efficiently. However AT&T wants to make sure that the phenomenon of doing multiple things at once no longer jeopardizes the lives of individuals behind the wheel.
"What is making AT&T's 'It Can Wait' campaign beneficial is that they are using real people and showing the detrimental consequences of actual scenarios where individuals were texting and driving," said senior criminal justice major at California Lutheran University Kendra Varney.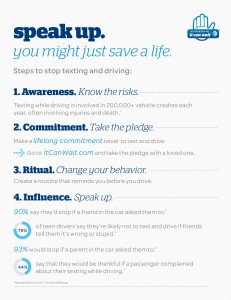 In a technological society like America, multitasking is how we accomplish the "American Dream." Checklist after checklist helps make tasks feel complete, but what fails to become apparent to some is that multitasking is actually impossible. The human brain cannot do more than one thing at a time. We can constantly be involved in multiple tasks but each task is done individually.
The "It Can Wait" campaign was created by AT&T to educate the technological generation about the risks that individuals take every time they read or respond to a text while behind the wheel.
"With the campaign it will reduce the rates of automobile accidents and reckless driving," said junior criminal justice major Tianna Langley.
Whether someone is on a freeway going anywhere from 65 to 80 miles per hour or driving on surface roads at 25 miles per hour, dangerous situations can occur and end lives.
"It is important for drivers to stop using their cellphones to keep the streets, highways and freeways safe for everyone," Langley said.
AT&T has created a new app named, DriveMode, that will automatically send a customized text message to friends allowing them to know that you are driving and cannot respond.
This message will be sent when the vehicle is driving 25 miles per hour or faster. There is also a way for parents to receive a text message if the DriveMode has been shut off while their child is still in a moving vehicle.
The Stafford Firm states "Texting while driving is more dangerous than going 55 miles per hour with a blindfold on."
Men and women have been paralyzed, cars have ended up in lakes and children have died due to their licensed driver texting instead of paying attention to the road.
According to the "It Can Wait" campaign fact sheet nearly 200,000 vehicles were in a car crash that generally resulted in minor to severe injuries including death in 2012.
Text messages are generally short brief messages that rarely have an urgent need for a response so AT&T's campaign motto is "When it comes to texting and driving, It Can Wait."
"People need to see that texting and driving is more than just breaking a law, it's putting innocent lives at risk," Varney said.
The first respondents to any roadside accident are fire fighters. Paramedics and police officers follow shortly behind.
"There have been too many minor and major crashes on the roads due to distractions while driving," seasonal firefighter Sam Johnson said. "I am glad that AT&T has seen the incline in the problems with texting while driving and are in an attempt to end it."
Fire departments generally see the worst of many accidents. According to the Governors Highway Safety Association, September 2014 texting and driving became a strict law which includes a ticket for hand-held cell phone use and texting while driving.
"In order to reduce texting and driving, we the civilians must take a stand against it as texting and driving is difficult for law enforcement to detect and often times may go unnoticed," Varney said.
All of the states do not include a full list of the different uses of a cell phone as being illegal, but include at least one which prohibit users from using their cell phone while behind the wheel of a vehicle. California is the only state that includes every category.
If you are interested in getting involved, you can get more information on the AT&T website at www.itcanwait.com as well as contributing by setting yourself to these standards and no longer texting while driving.
Erin Chisolm
Senior Writer
Published October 8, 2014