'Gone Girl': a confusing but gripping plot
Evan's Angle: Movie Review by Evan Engel
If anyone is to direct a puzzling, yet dark, neo-noir thriller, it's going to be David Fincher. Fincher also directed "The Girl With The Dragon Tattoo" and "The Social Network". His newest film, "Gone Girl," will make you walk out of the theater and wonder which is more twisted: the story itself, or the way he tells it.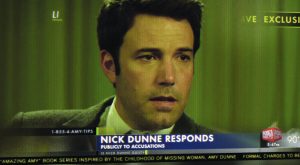 Ben Affleck stars as Nick Dunne, a man blamed for the disappearance of his wife and author Amy Dunne (Rosamund Pike). When she still hasn't shown up after three days, the media starts accusing Nick of murdering his wife. Affleck does an excellent job of reaching new creative heights on screen while at the same time, maintaining a grounded portrayal.
In a story that is told through two perspectives, one through Nick's eyes and the other from his wife's viewpoint, the audience is given a confusing, yet gripping plot to witness unfold. The structure of the screenplay is a distinct, rare piece of writing that you can't help but accept the way it's divulged, even when it's muddled with plot holes.
Gillian Flynn, writer of both the novel and screenplay (which is a rarity these days), still presents a pictorial vision through the written word, and makes it easy for Fincher to do what he does best.
One of the major themes in the movie revolves around the persistent, sleepless portrayal of media. When word first breaks out about Amy Dunne's disappearance, the media is helpful in the search for her by making the local neighborhood aware. But, after three days of searching, the media begins to turn on Nick and blame him for murdering his wife. Along with the media, Nick's family, friends and the lead detective on the case all begin to think the same thing. This sparks Nick to contact Special Defense Attorney, Tanner Bolt (Tyler Perry), who is famous for defending men accused of murdering their wives. Bolt teaches Nick how to pose for the camera, along with how to present his side of the story in a heartfelt manner so that he may win the hearts of America again.
Throughout the story, we hear voice over excerpts of Amy Dunne through passages in her diary. While she tells the viewer her accounts of certain days, we see it played out on screen in front of us. This makes it even more difficult to try and discern who is telling the truth between Amy and Nick. We get skewed perspectives of one seriously messed up couple. Fincher, yet again, knows how to throw an audience off.
Rosamund Pike proves to be a fantastic choice for Amy's depiction. The deeper, serious tone in her voice helps add to the natural femme fatale role that every good noir film needs. Despite the creepy sound and illusion she gives on screen, she still manages to maintain a beautifully realistic performance.
It's astonishing how many emotions music can make you feel during a film. After reading that Trent Reznor and Atticus Ross were providing the score for the picture (their third collaboration with Fincher), I was even more enthusiastic about how it would turn out.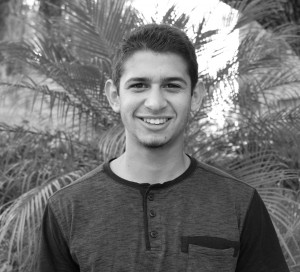 According to USA Today, the composers used a wide range of traditional instruments such as guitar and keyboard as well as handmade gear to help produce an unnerving and unsettling feeling in the end. If Fincher were to suddenly stop collaborating with Reznor and Ross, then his films would take a major hit in my opinion.
After pondering over the film's other themes of dishonesty and the effect it has on marriage, it becomes apparent how people can change if they're unhappy. And just this is the debate of the movie: How far would you go to prove your love for your spouse? For Nick and Amy, their love story turns out to be far more entangled than Romeo and Juliet's.
Overall, Fincher and Flynn work together excellently to help bring a contemporary story to the big screen. It covers several themes found in today's American society. The cast, production design, cinematography, editing, score, writing and directing are all on par throughout. After seeing "Gone Girl," you'll walk away with every piece of the puzzle, but with a slight uncertainty of how to put it together.
Star Ranking: Evan gave 'Gone Girl' four out of five possible stars.
Evan Engel
Published October 8, 2014