Sing it out loud for all to hear
The Associated Students of California Lutheran University Government held California Lutheran University's very first The Need: An Open Mic Night on Oct. 7.
The event place at Jack's Corner outside of the Starbucks on campus. According to the press release for the event it was "meant to serve the needs of expression for students on campus."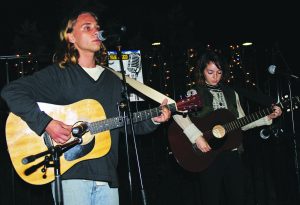 Natalie Kalamdaryan was the host for the night. She also opened up the show with Andrew Pineda on guitar with a cover of the song "Riptide." Next was Christophe Bassett, who played music on the acoustic guitar and drums.
Other performances included Emily Yoshido and Josh Cadena, who sang and played guitar, and Alli Himber, who performed "No One" by Alicia Keys a capella.
"I was just kind of expecting to have a good time, sing a song, and enjoy the audience," Himber said.
She encouraged the audience to sing along with her as well.
"The crowd, once I coached them, was really into it," Himber said, "They were a really good crowd and really supportive of us and that's all that matters."
Himber said she thinks this was a great outlet for all the creativity Cal Lutheran students have.
"I think CLU needs to focus more on music and art. They don't have a ton of programs with that so I think there is definitely a need for it," Himber said.
The next act wasn't musical, but "spoken word" by Andrew Crago. He performed a poem about his family.
Katrina Petty played guitar and sang an original song called "Come Around." She said she was really excited to perform at the very first open mic night.
"I love performing in general so being able to perform on campus just really was the best opportunity for me," Petty said, "I love being able to see the faces of the people and see the immediate reactions and I figured at an open mic night, especially on campus, it would be a super easy way to get to know everybody and see their reactions and what they thought of my music."
After Petty were Kala Randazzo and Chandler Vudmaska, both on guitar and vocals. They performed "Jesus Don't Want Me for a Sunbeam."
A trio named Jewel Soiland, Rachel Balcom, and Jeffrey Roberts performed an acoustic performance of "Amnesia."
After this, Lauren Hesterman and Lauren Parker performed their own rendition of "7 Nation Army" with Hesterman on the cello and vocals and Parker on the cajón drum. They performed a second song, joined by Torrance Klein on the guitar for a jazz number.
Pineda went back on stage to perform another song on his guitar. After that, Kalamdaryan joined him again to perform the song "Why'd You Only Call Me When You're High," but changed the lyrics to "Why'd You Only Call Me at Open Mic."
To wrap up the show, rap group Life Now performed three original songs.
Ally Ruggles, ASCLUG president, said she was very pleased with the open mic night.
"I was really excited. At first, with any event, you're a little hesitant… but you just have to know that it always works out some way. We have such a supportive community here," Ruggles said.
Ruggles said she was also very pleased with all of the different types of performers.
"It was so great to have a variety [of performers]. I think some of them were nervous but I think the support of CLU gave them the confidence to go up there and everyone was supportive of all of the variety," Ruggles said.
She said she is very excited to continue this event and looks forward to the future open mic nights.
Isabel Kirsch
Staff Writer
Published October 15, 2014