Duck, dip, dive and dodge!
Cosmic Dodgeball is back for the second year on campus as intramural sports are starting to grow in popularity every year.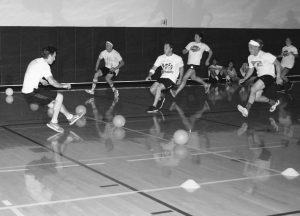 "The purpose of the event is to add a new spin on a game that most people love to play. Some sports need a new kick to increase popularity and attention," said Paul Hartman, coordinator for recreational sports. "The event was first started last October right before Halloween."
According to the California Lutheran University's intramural sports website the program was made to create a physical, social and recreational well-being by offering different programs, sports and leagues. It is encouraged to participate in intramural sports with sportsmanship and healthy competition.
The cosmic dodgeball tournament takes place in the Soiland Gym starting at 7 p.m. It kicked off Oct. 8 and will conclude on Oct. 29 with games occuring every Wednesday night.
"Coming out and playing cosmic dodgeball with your friends gets really intense. Everyone out here wants to win and their competitive side comes out. I mean who doesn't like playing dodgeball," said Nick Cohan, a player for team White Cobras.
For this dodgeball tournament the rules created by the National Amateur Dodgeball Association are used. The teams are made up of six to 10 players with only six on the court competing.
Any student, faculty or staff member can form a team. Two players of each gender must be on the court to start the game at all times and substitutions can only be made in between games.
Players not only have to follow the rules of the game but the code of conduct as well. If any player breaks a rule from the code of conduct he or she will be ejected from the game immediately.
If a player is continuously breaking the code of conduct he or she could be banned from intramural sports for the rest of the year. The rule is in place to make sure there is a safe playing environment for all participants.
The object of the game is to get all of the opposing players out. This can be done by either hitting an opposing player with a thrown ball or catching a ball thrown by the opposing team. The first team to eliminate all opposing players wins the game. It is best of five games, where the first team to three wins.
"I come out here to have a fun time and to be able to play with and against my friends," said Austin Kay, a player for team Average Joes. "But don't get me wrong I come out here trying to win every game. I do like the idea of cosmic dodgeball and the other intramural sports that the school puts on. I think it's a great idea."
The tournament is made up of eight teams split up into two groups. Each team will play three games every night. Group one consits of: Drue Bosco, Moses and Chosen Ones, White Cobras and Hypebeast. Group two is composed of: Dodgeballs Hurtz, Oh My Amanda, Hannah, Purple Cobras and the Average Joes.
Each player must be wearing either white or neon colored clothing.
"This year's turn out is good. Last year students did not really know what to expect. But this year we have some teams that went all out with neon face paint and other accessories," Hartmann said.
There will be prizes awarded to the winning team at the end of the tournament.
Chris Whitmer
Staff Writer
Published October 15, 2014