Crazy for pumpkins
October has finally hit and the holiday festivities can begin.
The weekend of Oct. 18 and 19, Calabasas will be continuing their tradition with the Calabasas Pumpkin Festival. From 10 a.m. to 5 p.m. friends and families are welcome to attend. The entrance fee of $5 will include the option of enjoying the slides and a bounce house.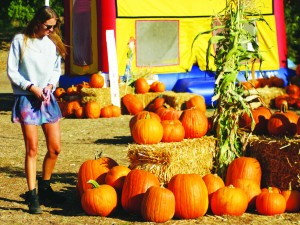 According to the festivals website, in Spanish, "Calabaza" directly translates to pumpkin. The city wants to honor its name and contribute to the enjoyable and amazing memories of pumpkin patches. There will be live bands, dance zones, marketplace vendors and food including pumpkin treats.
On Saturday morning, there will be a costume parade and live music. The bands and DJ's for this years festival will include: Zoot Suit Review, Swag Band, Disco Inferno and The Spazmatics. So start getting comfortable in your new dancing shoes and come down to Calabasas for the day.
If the Calabasas festival doesn't work for the weekend, there are plenty of other Halloween activities that are closer to campus.
There are multiple local pumpkin patches that roommates can go to in order to find their perfect pumpkin to carve in the dorms.
The Underwood Family Farms is celebrating their 17th annual fall harvest festival this year and up until Oct. 31. The hours of operation are from 9 a.m. to 9 p.m. On Oct 18-19 they will be having a Western Weekend from 11 a.m. to 3 p.m.
Underwood Family Farms will have music, magic, cowboys and stunt ropers according to the website. They are located on Sunset Valley Road in Moorpark, California. The admission is $14 per person.
"I think the best [pumpkin patch] around here is Stu Millers Patch on Thousand Oaks Boulevard," said Illissa Mestas, senior of Cal Lutheran.
Stu Millers Pumpkin Patch is now owned by Seasonal Adventures. Pumpkins can be hand picked right next to their very own petting zoo, which has a baby pig.
"This is the first year that I have worked at a pumpkin patch and it has been so rewarding," said John Olsen, employee at Stu Millers Pumpkin Patch.
The employees have worked hard to get this set up and ready to go for all ages to enjoy so that they can bring some holiday happiness to their supportive customers according to Jeff Paul, a seasonal employee at Stu Miller's Pumpkin Patch.
"I'll tell you what, especially in a place going light speed all the time like Southern California, the fact that people can unplug, slow down and take a day to be with family or friends and even get some dust on their knees is a truly wonderful reason to believe in the worlds brighter side," Paul said.
Halloween is a time to enjoy with friends, eat a little too much sugar, and enjoy the beginning of pumpkin season. So find an option that suits your busy schedule and get out there for a bit of relaxation before midterms.
Erin Chisolm
Senior Writer
Published October 15, 2014