Club team feature: Knights hockey
Knights Hockey
With increasing popularity over the past few years, the Knights club hockey team is set on starting a tradition of success.
California Lutheran University's club hockey team the Knights has started out strong this year by winning both preseason games against the Ventura County Community College District (VCCCD). The team hopes that this will be their best season yet and that it put them a step closer to becoming a National Collegiate Athletic Assosciation sport.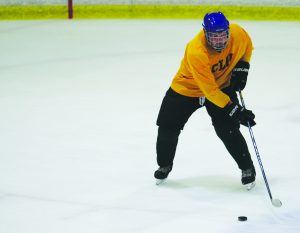 The hockey team has been around since the '80s, but Cal Lutheran's current team started up five years ago after a hiatus of over a decade. Although the hockey team has only cropped up recently, the few years of its revival have shown substantial growth in both the size of the team and the skill of the players.
With 20 players, the Knights have doubled since their rebirth. Blake Stevens, a junior on the team who has been playing hockey since he was five-years-old, said the team has grown in more than just numbers.
"We have grown in both players and skill which gets our popularity up and makes more teams want to play us," Stevens said.
This attention extends not only to other teams, but also to fans. Stevens estimated that 200 people came to their bigger games last year, and a majority of the audience was from Cal Lutheran.
Although it's gaining popularity, the club team struggles with funding. The Knights receive money from Associated Students of California Lutheran University Government, but the funds are not enough to cover jerseys, all of the equipment, lockers, and ice time. The team ends up practicing at 10:30 p.m. or later on weeknights because it is the cheapest ice time.
Tyler Tardiff, a senior on the team who has been playing since he was 4 years old, said he wants to see the club team become a Division III sport.
"For team goals, I would like to see [hockey] become a school sport, sanctioned by NCAA, to have better funding, and to be taken a little bit more seriously," Tardiff said.
Coach Zach Margeson, a 24-year-old, burly, bearded man with a passion for hockey, has even greater goals.
"The next step for Cal Lu would be to move into the highest ACHA [American Collegiate Hockey Association] league there is out here, and just be a dominant force. So that when you do talk about collegiate hockey in the west coast, or in California, Cal Lu is the first name you think of, or at least in the top three," Margeson said.
Before this can happen, hockey must gain popularity on the west coast.
"In 20 years the emergence of hockey teams, like the Anaheim Ducks, has sparked more interest in hockey," Tardiff said.
There needs to be a greater awareness of hockey along the west coast before these goals can be accomplished. According to Stevens, the best way to create awareness is to introduce your friends to the sport.
"People don't know how awesome the sport is until they experience it first hand," Stevens said. "Now all my friends love hockey."
These goals may not be achievable in the immediate future but the goals hold a high bar for the Knights, and each year it comes a step closer to reaching that bar. The Knights next game is Saturday, Oct. 18 against California State University, Northridge.
Julie Griffin
Staff Writer
Published October 15, 2014