Vets now attend Cal Lutheran for free
Many veterans hope to either continue or begin their college education when they return from duty, and California Lutheran University is helping to make that hope a reality.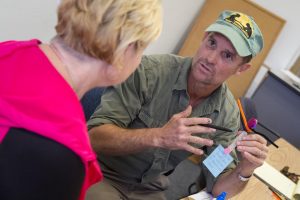 With the post- 9/11 GI Bill, veterans can have up to $20,235 of their tuitions and fees paid for. This is a great bit of help, but it obviously does not cover the entire cost of an education at a private university. This is why Cal Lutheran has joined the Yellow Ribbon program.
The Yellow Ribbon program is offered by the Department of Veteran Affairs and its main goal according to their website is to make funds available to the student without adding any charges or fees to their GI Bill.
Through the Yellow Ribbon Program, the university decides the amount of tuition and fees they want to cover and then the VA matches that number. These funds can be used either for the veterans themselves, or it can also be used by their children or a spouse.
Cal Lutheran has decided to contribute 50 percent of the students tuition and fees not covered by the post-9/11 GI Bill, and with the VA matching this number that means the total cost of tuition and fees of $36, 690 is covered.
"If a student has post-9/11 at 100 percent and they go here, they go here for free," Veterans Coordinator Jenn Zimmerman said.
Zimmerman has been the Veterans Coordinator since the offices inception in May of 2013 and is a veteran herself. She said she believes that it is this commitment to providing for veterans that helped earn Cal Lutheran third place among regional universities in the West for veterans.
With the addition of the Veterans office to Cal Lutheran, it has given veterans a place on campus where they can form their own campus community with other veterans.
Cal Lutheran graduate student and veteran Christopher Johnson said the newly implemented office played a large role in his decision to come to Cal Lutheran.
"A lot of schools that I looked at didn't have veteran's offices or veteran liaisons and then I found CLU and Jenn [Zimmerman] and not only was she a part of the office but she was a vet herself so she knew what I was going through," Johnson said.
Zimmerman, who graduated from Cal Lutheran in 2012, advocated for the position when it first came up because she believed that veterans really needed a place they could call their own and get specialized help. The Veteran's office works to recruit, facilitate the admissions process, and to just be a support system for the veterans getting acclimated to civilian life.
"Most of the veterans are older than the average student on campus so they really come together as a group since that is what they are used to with their military background," Zimmerman said. The veterans office puts together different on campus events as well to help build up their sense of community.
The next event they are putting together is their Veterans Day barbecue and tailgate which will take place on Nov. 8 with live entertainment provided by country cover band Highway Star. Admission is free for veterans and they can bring up to three family members free of charge. General admission for the event is $10.
The Veterans office has accomplished a great deal in their short span of existence and there are no plans to slow down according to Dean of Admission Matthew Ward.
"The outlook is great for us to grow our population of veterans. We have great personnel supporting veterans, generous financial aid, and will have a dedicated space for veterans in the new Student Union building. I am hoping that we can triple the number of veterans attending Cal Lutheran over the next three years," Ward said.
For further information on the veterans program or the Yellow Ribbon Program contact Jenn Zimmerman at [email protected].
Alix Moise
Staff Writer
Published October 22, 2014