CLU students gamble the night away at Monte Carlo
Saturday night the Associated Students of California Lutheran University Government Programs Board held a formal event for the student body at Cal Lutheran known as Monte Carlo Night. The event was located at the North Ranch Country Club in Westlake Village, California.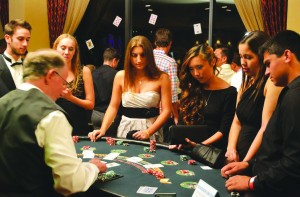 "The Monte Carlo theme originates from Morocco, specifically Monte Carlo Casino. It has become famous throughout the years for hosting the European Poker Tour and a stage in Formula 1 Grand Prix," said Alexa Cajthaml, who is a member of the Programs Board at Cal Lutheran.
The event was a part of the many homecoming festivities that were held over the weekend.
Monte Carlo Night this year was a Circus Circus theme and it also gave students the chance to dress to impress. The guys brought out their flyest suits and button ups and the ladies their dresses.
"This event can mean a few things for Cal Lu students," Cajthaml said. "For one, it is a break from school, a change of pace per say. We are halfway done with the semester now, which can be the most stressful part of the semester for a lot of us. Also it's the night before our big homecoming football game. This whole weekend, Monte Carlo Night, Homecoming and the Carnival is a big celebration filled with school pride."
Throughout the night there was a ton of entertainment for the students in attendance from dancing, to playing fun casino games such as poker, blackjack, Russian roulette and also craps. Although the money being gambled was fake, the stakes were still high.
"I had a great time at Monte Carlo night especially when I was playing blackjack," senior Conor Finfrock said. "Although I wasn't gambling real money at times it still became frustrating, but at the end of night I won $2,000 so that was pretty cool. If only the money were real it would have made my night even better. I also appreciated the music that was being played. It was a little bit of everything from hip-hop to R&B and even some techno to get the feet moving. It was pretty fun."
After students cashed in their chips they were given raffle tickets to participate in trying to win prizes such as gift cards from Olive Garden, Domino's, The Cheesecake Factory, Chipotle and probably the most popular prize of all, a trip to Las Vegas for two.
"This year I thought we'd take it to another level… we had a bigger venue, bigger dance floor, and with the bigger venue we had some more possibilities as far as more games, a bigger dance floor, a photo booth, so it really surpassed my vision of just a basic Monte Carlo," said Evan Carthen, ASCLUG Programs Board director.
Being that it was a bigger venue from last year, it turned out to be a huge upgrade in favor of the students at Cal Lutheran. There was space to move about, and also numerous gambling tables.
"The committee did a great job in organizing it, bigger in probably attendance that we have had for this event and that's a big plus. I think the committee did a great job, I think our marketing did a great job as well in really getting out there. They did a great job in tabling and marketing and things like that so they made this event turn out really well," Carthen said.
This year's Monte Carlo Night set the tone for future ones to come, and the ASCLUG Programs Board plans to make sure the one next year is even better and more entertaining for students at Cal Lutheran.
Randall Shumpert
Staff Writer
Published October 22, 2014