Thinking pink for October
Every October is breast cancer awareness month, which is a campaign to try and spread awareness.
"Many individuals have been diagnosed with breast cancer and it is essential that we as a community take the necessary steps to help raise awareness," said junior Justin Fallon who was in charge of the event, Save the TDs.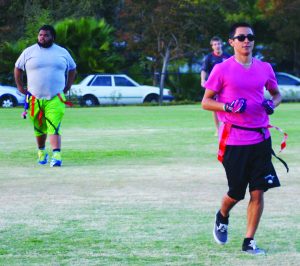 About one in eight United States women will develop breast cancer, and about 40,000 women in the U.S. are expected to die in 2014 according to breastcancer.org.
California Lutheran University held an event to spread awareness for breast cancer called, Save the TD's. This event took place on Oct. 16 on the Mount Clef Field.
"Cancer is something that has impacted many if not all of us. Bringing light to issues like this is something that Cal Lu is about. Students taking their talents to better the world around them and by participating in breast cancer awareness month. We are doing our part, no matter how small," junior Jenessa Well said.
This event included pink flag football games which were open to anyone who wanted to play. Pink breast cancer giveaways were handed out to everyone who played in the flag football games.
Flyers about this event were passed out all around campus, which had facts about breast cancer and listed places where one could donate.
"The goal of this event was to bring together the CLU community to raise breast cancer awareness and take in donations in a fun and interactive way," Fallon said.
The National Football League also plays a big role in breast cancer awareness. You can find most of the players wearing some sort of pink during games, whether it's pink cleats, wrist bands or gloves. The pink apparel worn by players, coaches and referees during games will be auctioned off with the profits going to American Cancer Society's Community Health Advocates implementing Nationwide Grants for Empowerment, according to NFL.com.
However, the NFL is not only showing awareness on the field, they are helping off the field as well.
On Oct. 25 the NFL and the American Cancer Society will come together to educate others about breast cancer and give free and low cost screenings in certain communities. This day is called "A Crucial Catch".
There are many different organizations that are currently trying to spread awareness of breast cancer. Gold's Gym in Thousand Oaks is just one of them. Gold's Gym is selling pink shirts that read "Press For The Chest" for $15 and pink wristbands for $1.
"I think this is a great idea to show breast cancer awareness. The shirts have been popular here at the gym. You can look around and see everyone lifting in their pink shirt. Also all of the profit from the shirts will be donated, which is all the more reason to buy a shirt," said Marisa Bucknam, Gold's Gym personal trainer.
"Now there are studies that have shown women who do physical activities starting as a teen will decrease their chances of getting breast cancer," Bucknam said.
There are many different ways to help spread awareness. One way is to make a donation to donate.cancer.org to help those with breast cancer.
Chris Whitmer
Staff Writer
Published October 22, 2014