Kingsmen clip Sagehens' wings
Kingsmen Football
In front of a packed crowd, the Kingsmen exploded for 41 points against Pomona-Pitzer and picked up a homecoming victory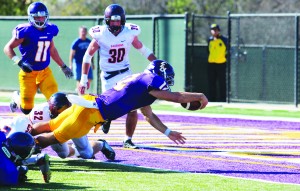 With a packed crowd at William Rolland Stadium looking on and hungry for a Homecoming victory, the California Lutheran University football team came out on top with a 41-17 win against the Pomona-Pitzer Sagehens on Oct. 18.
"[Winning the Homecoming game is] always special. Most important game of the year. Got to find a way to win that game. That's something that we take very seriously and it's an honor to play in that game. We're fired up that we got it done," said Head Football Coach Ben McEnroe.
The Kingsmen started off strong in the first quarter scoring three unanswered touchdowns on their first three drives resulting in a 20-0 lead
On the first Kingsmen scoring drive, junior quarterback Nick Isham connected on a 23-yard pass to junior tight end Connor Allen. The next play, junior running back Ricky Johnson completed a 21-yard run to set up first and goal for the Kingsmen. Two plays later, Isham was able to find junior wide receiver Sean Bellotti in the endzone for a touchdown.
The Kingsmen defense was taking care of the Sagehens, forcing them to punt on their first two drives, then forcing a fumble on Pomona Pitzer's third drive.
Just before halftime, the Kingsmen finished up a 64-yard drive resulting in a 27-3 lead.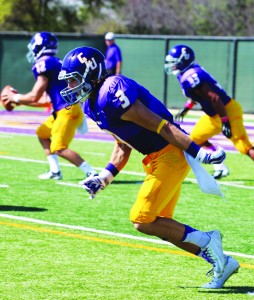 In the second half, Pomona-Pitzer fought back but the Kingsmen offense proved too much to handle. Despite allowing the Sagehens two rushing scores in the second half, Isham and freshman running back Michael White added a 3-yard touchdown each for the final score of the game giving CLU the 41-17 win.
Vance Cramer, a senior full back and tight end, was especially pleased with this win.
"It's always great winning," Cramer said. "Football is always more fun when you're winning… I've been here for all four years and there's only four of us who have made it through all four years. This is really exciting."
McEnroe was pleased with the game as well.
"Winning is a lot harder than people understand," McEnroe said. "It doesn't matter if we win by one or if we win by 50, it's always a good win."
For future games, Cramer would like the team to be more efficient in executing their plays and trying to be perfect.
McEnroe would like the team to work on defense and try to eliminate the small mistakes in preparation for future games.
The Homecoming and Family Weekend celebrations were also an important part of the football game.
Family members of current Cal Lutheran students were recognized during the game, along with alumni. Cal Lutheran cheerleader alumni were invited to perform during the halftime show with the current Cal Lutheran cheerleader squad.
After defeating the Sagehens, the Kingsmen improve to 2-1 in conference and 2-3 overall. Their next game will be on Oct. 25 against Chapman University at 7 p.m. at William Rolland Stadium.
Amber Rocha
Staff Writer
Published October 22, 2014