Crimes on Cal Lutheran campus
Update: April 15, 2015 – Case dismissed on March 20, 2015.
Click here to see updated news brief
Oct. 15, a student athlete was arrested on campus at 3 p.m. In an unrelated incident, a laptop was stolen from a student dorm in Trinity Hall.
The Thousand Oaks Police department arrested Ephraim "EJ" Edinburgh, a California Lutheran University student athlete, for being in possession of several hydrocodone pills that weren't prescribed to him.
According to Karin Grennan, Media Relations Manager at Cal Lutheran, "You can't ever have a prescription drug that is not in your name, even if it belongs to a family member and you have the person's permission. Any prescription medication must be in your name and kept in the original bottle from the pharmacy. Otherwise, you are breaking the law."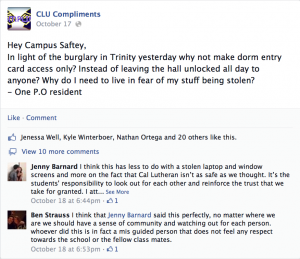 According to the Ventura County Pressboard's Arrest Report, Officer Eric Seefeldt made the arrest on campus, and Edinburgh was booked at the East Valley Jail with bail being set at $10,000.
It is unclear as to who reported Edinburgh to the police department but according to Director of Campus Safety, Fred Miller, Cal Lutheran has a close relationship with the Thousand Oaks Police Department and in situations similar to this, will report students who are breaking the law.
"We work closely with the Ventura County Sheriff or the Thousand Oaks Police Department," Miller said. "We contact them. They then make that determination if there is an arrest that is going to be made. We only can make a citizens arrest."
Although not being specific to this particular case, Miller said that when criminal offenses happen on campus, the student will not only have to deal with the law, but will also probably have a student conduct meeting with the university.
"Sometimes for an athlete getting in trouble, the ramifications with the coach are sometimes stronger than with what maybe the judicial system might levy out. You could be knocked off the team, all those types of thing," Miller said.
Head Coach of the Cal Lutheran football team Ben McEnroe said that he has his own way of handling his players when it comes to situations like this.
"I don't want to speak for the entire profession [of coaching football] but the biggest thing is that, in my opinion, the way I handle any matter that involves a football player, is that I want to get the facts straight. To me that is the number one thing that I'm concerned with," McEnroe said.
McEnroe confirmed that Edinburgh did play in the homecoming football game on the Oct. 18, just three days after his arrest.
"Personally when I deal with discipline issues, I do know my own investigative work, I talk to people. I work really hard to gather as much information as I can before I make any decisions, " McEnroe said.
Student posession of prescription drugs is not something Cal Lutheran takes lightly, according to Grennan.
"If we find a student in possession of any prescription drug that is not prescribed to the student, we need to confiscate it and contact the Sheriff's Department. It is then up to the Sheriff's Department and the District Attorney's Office to investigate and take whatever action they determine is appropriate. This is what happened in this misdemeanor case," Grennan said.
Edinburgh has not been convicted of any crimes, but has been charged. The Ventura County District Attorney has charged him. His court date will take place Dec. 11, 2014.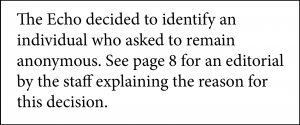 The Echo reached out to Edinburgh multiple times over a two-week period and after initial contact Edinburgh stopped responding to efforts to reach him.
In an unrelated incident, a couple of hours after the arrest of Edinburgh, at 7:24 p.m., a laptop was reported stolen from a different student's room at Trinity Hall.
Cal Lutheran is not typically known for having incidents like these occur on campus. According to senior Carlos Moran, a resident assistant in Trinity Hall, the university is known for being a safe place for students, faculty and staff.
"I believe that CLU does a really great job of keeping people safe. There are some instances where things have happened but those are very rare in my opinion," Moran said.
According to the Ventura County Pressboard's Crime Report, the burglary took place on Oct. 15 between 9 a.m. and 5:30 p.m. in Trinity Hall. In a public narrative written by officer Joe Ramirez, "An unknown suspect(s) entered the victim's residence with the intent to commit a theft."
The report identified Jennifer Barnard as the victim of the first-degree residential burglary, a felony under Penal Code 459, also known as "breaking and entering a property."
The Echo contacted Barnard and she declined to comment.
The day after the burglary, Campus Safety sent a "Timely Notice" text message campus wide to inform students, faculty and staff of the burglary that had occurred. Miller said that these timely notices are something campus safety plans to utilize in the future.
"There are two types of things that will [cause us to] send notices. One is what they call a timely notice that is reportable under Cleary. Certain things that happen, where there is a continuing threat on campus. For example, had this burglar been caught, we may not have sent a timely warning, but we would have sent an alert message out to everybody saying this happened and the individual is in custody, but just as a reminder," Miller said. "The same would happen if we had a sexual assault on campus and the person was not in custody. We would send a timely notice out. We would protect the identity of the victim, we always do that."
According to Miller, there are also emergency notices that are sent as texts to students. Emergency notices would include events such as fires or roads being closed.
"We also have emergency notices. They go out a different way. They would, [however] still be sent out through text," Miller said.
According to Miller, most burglaries are crimes of opportunity and students should take the necessary steps in order to ensure crimes like these don't happen in the future.
"Lock it up. If it's an electronic device, it's expensive. If you leave it alone, it's going to grow legs and walk off, or someone that has legs is going to take it and walk off," Miller said
Moran also said that students should feel free to come to their RA's if they ever feel unsafe.
"That's what RA's are there for, to build community and to keep people safe. Those are the biggest goals for an RA. If someone's not feeling safe, the residents should communicate that with their corresponding RA no matter where they live," Moran said.
If you ever feel unsafe or see crime happening, report it. Contact Campus Safety at (805) 493-3208 or in case of an emergency, dial 911.
For more information and tips on crime prevention, go to http://www.vcsd.org/pr-crime-prevention.php
Natalie Kalmadaryan
Staff Writer
Published November 5, 2014