A-Ca what? A Capella! California Lutheran University has its own version of Pitch Perfect and co-president Hannah Norris and vice-president George Nsar wants anyone that is interested to join their on campus club.
"People should know that whether or not they have music experience that they should join our club if they are at all interested," Nsar said.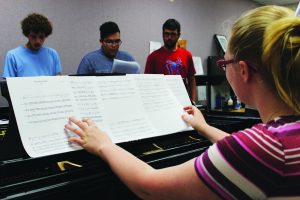 Nsar is a junior at Cal Lutheran and joined A Capella when he was a freshman. Three years ago he said that he was walking around the involvement fair on campus and came across the A Capella group.
A Capella is music that is created by individuals without any instruments being used. The group together creates their own pitch, timing and harmony to get the music to come together. Advisor Eric Kinsley loves how motivated this group is to succeed and complete their weekly tasks.
"They utilize their strengths of their individual self and create an internal leadership that includes all the members," Kinsley said.
Nsar said that harmony is the most difficult aspect for this type of musical group. They practice twice weekly and at times they will split into their respective sections and parts to help better harmonize their voices Nsar said. This helps to make sure that they use their time wisely in order to get the most out of each practice.
Rehearsals are based on the availability for the majority of the group but with 16 regular members, conflicting schedules can make it difficult, said Norris. Kinsley said that the group often does their own arrangements and function at a high level. A Capella has been growing steadily at Cal Lutheran for a while now and is open to all Cal Lutheran students.
The movie Pitch Perfect makes it seem like A Capella is all about competition, choreography and finding the perfect song for the group in order to be the best. However, Cal Lutheran's A Capella club has not competed in any events yet.
"We haven't competed in any competitions but who knows what will happen down the line," Norris said. "In December we usually perform 'Let it Snow' and go caroling at the retirement home behind Cal Lutheran."
Nsar said that he is hoping the group begins to do smaller one-song events randomly throughout the year because it would be fun. It would also help get the new members more practice with performing and becoming a bit more comfortable singing in front of an audience rather than just with the club members said Nsar.
A Capella is a mixture of men and women and Cal Lutherans club is nearly split in half. Having males in the group helps with singing the lower parts of the music and Nsar said that they are very fortunate because of the increase involvement of male singers.
"I would imagine it's the same as being a female, I'm not really sure how it would be different, I have shorter hair I guess," Nsar said.
Clubs on campus are a way to bring individuals together and to create a bond among classmates. Cal Lutheran has many clubs available to their students and Nsar was fortunate to find one that worked for him. Nsar is appreciative about the people that he gets to be around with A Capella.
"I am there to sing and listen to the amazing harmonies we make, but it's really all the good friends I've made there that really makes the club fun," Nsar said.
Personal goals have been made by Norris as she embarks upon her final year at Cal Lutheran. With graduation just around the corner she wants to improve on the clubs progress from her previous years to show others what A Capella is truly all about.
Erin Chisolm
Senior Writer
Published November 5, 2014