Students gathered in Kingsmen Park on Nov. 8 to relax through yoga. Lisa Wildermuth who has been teaching yoga at California Lutheran University for four years, led an hour long yoga session out in the park for students to enjoy.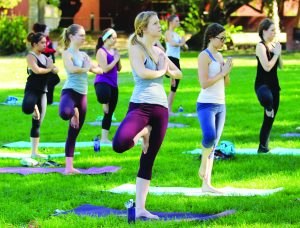 The outdoor setting of the event gave students a unique environment to relax in, different from their usual classes in the Gilbert Sports and Fitness Center.
"Nature and the sounds just have a way of helping a person relax and get into their yoga practice. And for those that are always inside doing it, it just kind of changes it up," Wildermuth said.
About 15 students showed up to participate in the event, many of them regulars like senior Grace Stepien.
"It was cool because you had not only the music that's going on but you hear the little birds and like you are on the grass and it's really cool because it's just nice and refreshing to do that outdoors, especially on a nice day like this," Stepien said.
In addition to lowering stress, yoga has many other benefits.
"It's a nice little exercise because you work out different types of muscles that you usually don't if you're running or using weights," Stepien said.
Wildermuth supported the statement and said yoga has benefits that get everything more in balance.
"When you go from a state of balance and you go forth in your daily life I think you make better decisions for yourself and for the people you're in relationships with," Wildermuth said.
The event was sponsored by Wellness Programs which, along with organizing the event, provided granola bars, water and water bottles for students.
Wildermuth took students through an hour- long class, ending with about 10 minutes of savasana pose, or commonly known as corpse pose, which had students lying flat on their backs.
After this the students came out of the pose and were able to enjoy snacks provided by Wellness Programs.
While yoga classes occur every Tuesday and Wednesday at 5:15 p.m., outdoor yoga occurs about twice a year, once in the fall semester and once in the spring.
Generally it is during the middle of the semester, particularly when students may be feeling a significant amount of stress.
"We understand that you know this time is really stressful and can get a little bit crazy so [we're] giving them the opportunity to come out here on a beautiful Saturday morning and just relax," said Cecilia Calderon, a Wellness Programs intern at Cal Lutheran.
In addition to yoga in the park, Wellness Programs is offering several other programs for student health this year.
Upcoming programs include World AIDS/HIV Day with free HIV testing in December and the Color Dash and Biggest Loser in the spring.
Wellness programs are available to help students lead happier and healthier lives through their events, office and online resources.
"We're really open and welcoming, so feel free to come into our office or email us at [email protected]," Calderon said.
Wellness Programs is available to help students in all aspects of health, both emotional, financial, personal, physical, sexual and spiritual.
Allie Leslie
Staff Writer
Published November 12, 2014