'Interstellar': a breathtaking spectacle
Evan's Angle: Movie Review by Evan Engel
Today, only a few filmmakers can truly forge masterpieces. Thanks to his unrepeatable creative talent, "Interstellar" director and co-writer, Christopher Nolan proves he's one of those rare artists who's able to. Not only does Nolan show his unique style with each film he creates, but also still manages to continue broadening the minds of his viewers.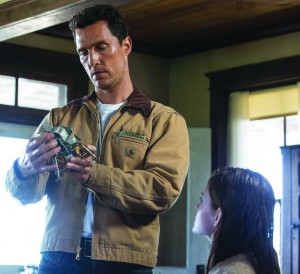 "Interstellar" is a visually astounding space epic adventure about an ex-NASA pilot (Matthew McConaughey) who is offered the chance to fly a group of explorers through a newly discovered wormhole that allows them to travel to distant galaxies in search of habitable planets for human life. It's a thrilling experience that takes some time to get going, but ultimately, transcends into a world that no filmmaker has gone too.
Perhaps this is Nolan's most emotional film to date. The first act takes place entirely on Earth – setting up some intense relationship dynamics that are played out till the end. It leads up to one of the most breath-taking transitions from act one to act two that I have seen in some time.
Together with his brother Jonathan, the Nolan brothers construct a screenplay that forces the viewer to think in a cerebral, broad perspective. They attempt to do what "Gravity" wasn't able to by expanding past our planets own solar system into a vast unknown distance.
Filled with huge names such as McConaughey, Anne Hathaway, John Lithgow, Michael Caine, Matt Damon and Jessica Chastain, this movie succeeds with its acting talent. McConaughey, who has been on an absolute roll, continues to add to the noise of his acting career. As a farmer he knows of the inevitable dust storms that will wipe out all agriculture and life on earth. He portrays an incredibly conflicted character that has the choice of either staying with his kids on Earth or leading an exploration in space that could potentially save the human race. McConaughey's performance represents the pure emotion any of us would feel in his position.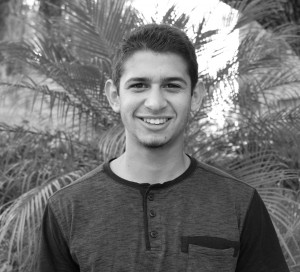 The director of photography, Hoyte van Hoytema captures his inspiring visions with the 70MM IMAX camera beautifully. He brings you inside the space station with close ups on each character, then brings you outside the ship and shows how small it really is compared to a planet such as Saturn. Each shot is beautiful in it's own way. Dare I say it's the spectacle of my lifetime thus far? This is a film that should only be seen in an IMAX theater.
This story resembles elements of past Nolan films, but at the same time explores a new path he's never travelled down before. With the help of theoretical physicist and scientific consultant on the film, Kip Thorne, Nolan was able to consider black holes, relativity, and other equations into his filmmaking process.
Ultimately, "Interstellar" is a love story between Cooper (McConaughey) and his daughter, Murphy (played by Mackenzie Foy and Jessica Chastain when she's older). While being astronomical miles away, Cooper's kids are his definitive motivation for returning home – even if it's an option that may not be available in the end. Undoubtedly perseverance is a theme that Nolan loves to examine.
He explores the concept of time so in depth in the story that the actual time of the film feels shorter than it is. Personally, I didn't want the almost three hour picture to ever end. Is this movie better than "Inception"? Maybe, but they both have a way of turning your brain around.
The production design is another aspect to rave about. Each detail on set whether on Earth, in space or on another planet absolutely added to the overall story. On top of the set design was the original score produced by Hans Zimmer. The composer comes through yet again as each note played instantly gives you chills.
In the end, what I'm trying to say is that Christopher Nolan is a filmmaking genius. He has developed his own unique flair for higher visions. He has a knack for visual story telling. I may be preaching to the choir but he still deserves absolute praise for this piece of art. Can someone just give this guy an Oscar already?
Star Ranking: Evan gave 'Interstellar' five out of five possible stars.
Evan Engel
Published November 5, 2014