Regals Basketball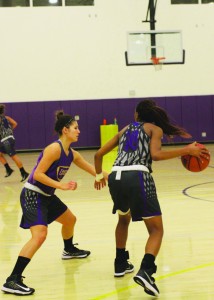 The California Lutheran University women's basketball team is back with a new season. With a couple of new players and a fresh start, the players are ready to show their competition what they are made of.
The 12-person roster makes for a tight-knit team. There are 10 returning players with only two new players. With the team consisting of only one senior and mostly sophomores, it is a very young team.
Sophomore forward Haley Hodgson is back for another season with the Regals.
"Last year coming in we had a lot of new girls and a brand new coach, so this year we kind of know what to expect. We're just trying to improve on what we did last year," Hodgson said.
Hodgson said that she thinks it is to their advantage that they have so many returning players.
"A lot of the teams [in Southern California Intercollegiate Athletic Conference] graduated a lot of girls and we have quite a few coming back so hopefully that little bit of experience will help us out for this season," Hodgson said.
For senior guard Natalie Stone, this is her fourth and final season at Cal Lutheran. She said the team's strengths this season are chemistry and experience.
"We are a small team this year and I think our chemistry is pretty great because right now the girls that are playing are all returners. . .Our chemistry picked up right where we left off," Stone said.
She said it helps that they are friends on and off the court.
"We just want to do better than we did last year. We have the experience to take us where we need to go. We just want to improve," Stone said.
Head coach Lindsay Goldblatt is looking to get better by building on the success that the team had last season.
"We're just trying to continue to make progress as a group because we're still pretty young. . .We have a lot of good game experience. A lot of those sophomores played a lot as a freshman because we were so young," Goldblatt said.
Goldblatt said that she expects her team to work very hard this season. She also said she likes to keep things very fast paced in order to get ready to face the other teams in SCIAC
"I think we're getting there. We're making progress. . .Each day we're getting a little better and working on something new so I think where we're at now, we're making good progress if we can continue to work hard at some of our weaknesses," Goldblatt said.
She said their strengths are their pace, because they run the ball very well. They are also very aggressive in their press defense, which causes the other team to turnover. She said they need to work on communicating on defense, but they are working at it and getting better.
"We just take it one game at a time. We try not to look too far ahead because you get a little carried away that way," Goldblatt said.
The Regals will be going on the road for their next game on Nov. 16 against St. John Fisher at University of California Santa Cruz. The Regals' first home game is Tuesday Nov. 25 against Augsburg at 6 p.m in Gilbert Arena.
Isabel Kirsch
Staff Writer
Published November 12, 2014