The theatre arts department at California Lutheran University opened their fall production of "Sir Patient Fancy" at the Preus-Brandt Forum on Nov. 14.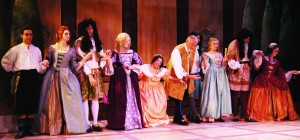 The play, written by the first woman playwright of the English Restoration, Aphra Behn centers around the Fancy family and all the mischief going on in their lives.
According to the theatre arts page on the Cal Lutheran website, "this delightfully witty and farcical comedy gives us the age of the unbridled sexual libertine and the intellectual woman who was his equal. The play will be produced in full, extravagant Restoration style with fashion, intrigues, mistaken identities and misunderstandings. Characters like Lady Knowell and Sir Credulous Easy (whose names give clues to their characters) are sure to create a wildly entertaining period piece for the audience."
Sophomore Kevin Repich portrays the character Sir Credulous Easy who he describes as dull-witted and stupid compared to everyone else. Repich said "Sir Patient Fancy" was different from other productions he has done at Cal Lutheran, like last year's production of "As You Like It."
"[The show] was a lot more difficult in terms of the language because Shakespeare has a certain flow to it," Repich said. "With this [dialogue] it's not. It's still old English but it's more abrupt. We really have to annunciate every single thing. It's not about what you say but how you say it."
The Preus-Brant Forum was transformed to that of Restoration style, featuring four lucky audience members in the wings dressed like they were a part of the show.
"We built a false proscenium stage. We're transforming it to look like a theatre from that time period," said Kiana Parker, a production assistant for the show.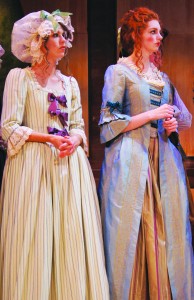 Parker said the whole cast and crew worked really hard on the show, even having a dialect coach for the actors to ensure that their accents were as authentic as possible.
Junior music major Kayla Sawoski enjoys attending shows put on by the theatre department.
"I think that the productions that Cal Lutheran puts on are very unique and entertaining. They're all very different and provide audiences with a variety of shows to see. I like the choices they make for shows," Sawoski said.
Along with the rest of the audience, Sawoski was able to see director Michael J. Arndt portray the role of the title character, Sir Patient Fancy.
"It was great seeing Michael Arndt on stage for the first performance. It was fun to get to see one of our theatre professors on stage," Sawoski said.
With a script hidden in a book style prop, Arndt had to fill in for Chris Clyne, who would typically be portraying the role of Sir Patient Fancy during the opening performance.
Repich said he believes all students should go see the show because it's different than anything else happening on campus at the moment.
"I think it's one of the best type of cultural things happening on campus. The set is beautiful, the costumes are beautiful, everybody has put in so much work into this show. It's just such a big production and a lot of the actors are just awesome. Nothing really compares to it on campus," Repich said.
"Sir Patient Fancy" will continue on through Nov. 23. General admission tickets are $10 and free with a Cal Lutheran I.D. For more information, call 805-493-3415.
Natalie Kalmdaryan
Senior Writer
Published November 19, 2014