ISIS discussion educates students on campus
On Nov. 11, professors from various fields of study at California Lutheran University joined forces in Richter Hall to educate listeners about the terrorist organization ISIS and put current events in Syria and Iraq into context.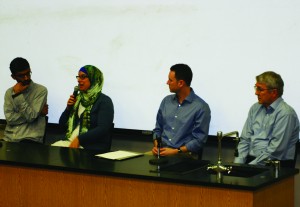 Dr. Rose Aslan, assistant professor of religion, Dr. Paul Hanson, professor of history, Dr. Ryan Medders, professor of communication and Sundar-Jovian Radheshwar, professor of political science contributed to the panel discussion with their academic perspectives.
Attendees eventually had to sit on the floor as the room filled up, demonstrating the interest in ISIS and current problematic situations in the Middle East.
Each of the professors had an introductory presentation about ISIS related to their field of expertise, and then a Q and A with the audience took place.
"I think we just have to keep talking about ISIS and pertain the faith that talking is going to do something," Radheshwar said to an audience member who asked how we can educate people about the moral consequences of American involvement in Iraq and Syria.
"I know a lot of my students for example, when I ask them where do you get your news, they don't seem to get their news from anywhere actually. I recommend being aware of current events in America," Aslan said.
Aslan also talked about the importance of seeking out a diverse range of news when educating yourself about what is going on in the world.
"Don't just get your news from just one source," Aslan said. "Be very careful of where you get your news from."
As the discussion on media coverage of the conflict continued, Medders shared his perspectives.
"Look for foreign media as well so the perspective of America is not just reaffied from the media presentation here," Medders said.
Another tip Medders shared was to consider commercial versus non-commercial broadcasting when looking for a diverse set of voices to communicate the news.
Medders also had advice for the audience.
"Don't be afraid to engage in conversation," Medders said.
Hanson said that the ongoing challenge is to give multiple perspectives, and said that in his Middle Eastern history class his students have to look at Middle Eastern sources as well as western.
In addition to talking about media coverage of ISIS and how the general public should seek out diverse voices, each of the panelists talked about their area of expertise.
Hanson gave an introduction to Middle Eastern history.
Aslan talked about how Muslims all over the world are expected to express disapproval and communal guilt over an organization that is not related to their life or beliefs at all.
Radheshwar talked about ISIS from a political science perspective and Medders talked about how ISIS uses media to market themselves.
The event was sponsored by the religion department, political science department, Segerhammar Center for Faith and Culture, Residence Life, Center for Equality and the Justice and the history department.
Karl Kleppe
Staff Writer
Published November 19, 2014