The two standards
New Mexico poet visited California Lutheran University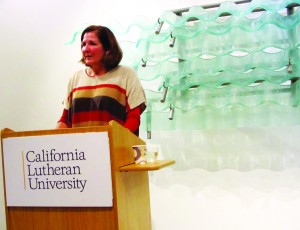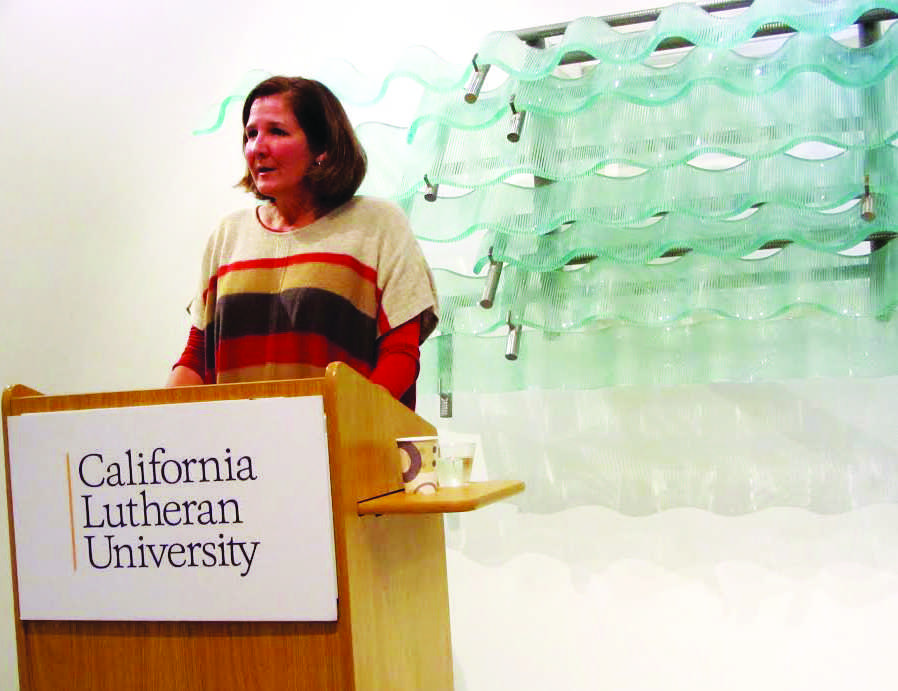 On Nov. 12, Dr. Heather Winterer visited California Lutheran University to read and discuss her book of poetry "The Two Standards" at the William Rolland Gallery of Fine Arts.
Winterer, born in New Mexico but raised in Australia, said her book is based on "St. Ignatius Loyola's Spiritual Exercises," a book written in the 16th century that involves personally interacting with faith through certain exercises.
"We all need to make meaning of the life we're given, and I do that through poetry," Winterer said.
Although her book is very religious, Winterer brings many aspects of science into her poetry. One of the poems she read is titled, "The Big Bang."
Although this scientific theory about the creation of the universe may seem at odds with religion, Winterer embraces the two.
"There is no incompatibility between faith and science," Winterer said. "To me, the two work pretty well together."
Dr. Jacqueline Lyons, assistant professor of English, said she and Winterer were colleagues at the University of Nevada, Las Vegas.
"I've known her and her work for seven years and still it was a pleasure for me to hear her read her poems and talk about the concept of the book," Lyons said.
Winterer said many of her poems in "The Two Standards" were written while she was in Las Vegas, so quite a few of the poems revolve around the dry, arid city.
This can be especially seen in the last section in the book in which Winterer said she wrote a series of poems titled after the names of different plants that can be found in the Mojave Desert.
"When I write, anything that is around me is coming into the work," Winterer said.
She said she was sitting in an arboretum when she wrote the poems about the plants.
"I feel the natural world speaks of the divine all the time. We just have to be listening," Winterer said.
Lyons said Winterer spent some time with her poetry class, in which the students asked questions about her poems, and Winterer led the class through a writing exercise.
The exercise involved getting in touch with the natural world through a sort of meditation and then writing down what came to mind.
"It is really important to me to have these poet visits because it connects students in my class to the poet. It brings energy and inspiration to them," Lyons said.
Kaitlyn Horpedahl, a senior art major from New Mexico, attended the poetry reading.
Horpedahl is in Lyons' introduction to creative writing class, and the class studied Winterer's poems to better understand literary devices before attending the reading.
"As an art student I like to see things going on in the gallery, and it was cool to hear the poet's poems in her own voice," Horpedahl said.
Horpedahl said she felt she connected more with Winterer because of Winterer's background in New Mexico.
"I was excited to learn that she was from New Mexico because having grown up in New Mexico I like to be able to relate to the artists and poets," Horpedahl said.
When asked how she got into poetry, Winterer said it was not something that just happened in a day.
"You realize you like [poetry], and no matter how much you think you should become a business woman, poetry becomes something you can't resist," Winterer said.
Winterer said that pursuing a passion is much more effective than a high paying career you do not enjoy.
"I do believe that if you follow the thing that you love, there will be opportunities for you," Winterer said.
The next poetry reading will take place on Dec. 3 at 7 p.m. in Ullman Commons 100.
Lyons will be reading and talking about her book of poetry, "The Way They Say Yes" which revolves around her experience working in the Peace Corps.
Julie Griffin
Staff Writer
Published November 19, 2014