Hip-hop culture boils down to four distinct elements: emceeing, deejaying, graffiti, and breaking. California Lutheran University hosts the Hip Hop Organization—better known by the acronym H2O—that brings the dancing element of hip-hop to students on campus.
Founded in 2003, the club comes together to perform dances at various events. H2O does not exclusively dance to hip-hop, the group also dabbles in other genres.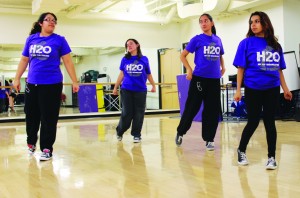 "The club's goal is for the club to promote a sense of dancing, not just in one genre. We dance to different things," senior and public relations officer of the club Frank Rodriguez said. "It's not just like we're just focusing on hip-hop, we're focusing on other groups, other song styles and stuff like that."
H2O is open to anybody who wants to join, regardless of skill level. There are no auditions or requirements apart from an interest in dancing. Those who lack experience do not need to worry about the difficulty of the dances.
"The moves you do, they're not very complex. They're basic and it still looks cool when the dancers are all together, so I think it's great fun and it's a great way to just relax at the end of the night," Rodriguez said.
With the majority of the club members being seniors who will graduate next semester, the club is looking for more members to keep H2O afloat.
"If you love dance or want to learn to dance then come join us," said Justina Posadas junior and H2O co-vice president in an email interview. "There is also no commitment to perform either. Anyone can come to learn the dance but they do not have to perform it in front of an audience."
In addition to performing the dances, H2O also creates and choreographs its own dances. The evolution of dance can be arduous but club members also find it very fulfilling.
"When we finish creating a dance… and polishing it and it is finally performed and we hear the cheering in the audience, that is one of the most rewarding parts of the club," Posadas said.
The club is not competitively based but focuses more on performing at events on campus. Currently, H2O is practicing for a performance at the World's Fair that will be held on Nov. 19.
"We are working on our World's Fair routine which includes songs from a variety of countries, in a variety of languages and is World Cup themed," Posadas said.
The group's big event is "Showcase" where H2O and several other dance clubs perform at Cal Lutheran. H2O works year round to prepare for the annual event and "Showcase" is the key focus of the group outside of smaller performances.
With the hardships that follow college life, the club is a great source for stress relief. The group also serves as a catalyst for friendships.
"I really love the club and it's such a nice break from school and it's a way for me to be creative and be with some wonderful friends," Sari Terrazas, co-vice president said in an email interview.
If you are interested in joining the club, you can contact Fransheska Berrios at [email protected] for more information.
Christophe Bassett
Staff Writer
Published November 19, 2014