Internet sensation: Alex from Target
He scanned his way into the hearts of the Twitterverse, but how did he do it?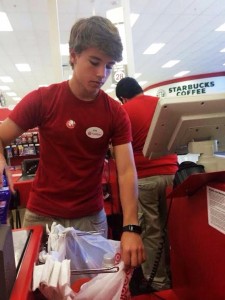 An Internet meme featuring a young Target employee recently broke the Internet.
"Alex from Target" gained world wide popularity when a tweet featuring his picture went viral.
Amobee Brand Intelligence measured 2.2 million tweets using the hashtag "AlexFromTarget" between Nov. 1 – 5. This phenomenon has been covered by various media outlets ranging from Buzzfeed to the New York Times and Alex was recently featured on The Ellen DeGeneres Show.
The face behind the Internet pandemonium is Alex Christopher Lee, a 16-year-old Target employee from Dallas, Texas.
His Twitter followers went from 144 to 600,000 in about three days. He seemed genuinely stunned by his new found popularity, with him tweeting "Am I famous now?"
This Tweet has since been retweeted more than 42,000 times and favorited by at least 86,000 users.
Lee seemed to be enjoying his new fame and its perks but the real beneficiary here seemed to be Target. Their stock went up and Target seemed to be at the forefront of everyone's mind.
Which begs the question: Was Lee's photograph really only posted on Twitter by a teenager and it suddenly went viral or was this all part of a clever marketing ploy pulled off perfectly by Target just in time for the holidays? Could this be some kind of hoax formulated for the entertainment of some bored person?
Dr. Russell Stockard Jr., a communication professor at California Lutheran University has his own theory.
"Rather than using the term 'hoax,' maybe we should consider that this phenomenon is the social media marketing equivalent of a TV reality show.  The 'reality' story lines in such shows are scripted even if the individual lines spoken by participant-characters are not."
Stockard said a social media phenomenon is at work here but we also have an example of old-fashioned publicity being applied to create fame and celebrity.
This social media phenomenon is also an interesting look as to how social media has affected marketing and advertisements for businesses in general.
"Social media is an excellent tool for businesses because it allows us to reach out to our consumers without having to spend much money. Traditional print advertising is very expensive and typically does not offer any tracking. Social media allows us to see who we are reaching and how often," said Gina Lipari, the Marketing Director for Berkshire Hathaway HomeServices California Realty.
As for the hashtag "AlexFromTarget," did it really have much impact at all in promoting Target? Lipari said she does not think hashtags add any awareness to Berkshire Hathaway's advertisements.
"The popularity of using a hashtag is growing but I think there is still a large population who don't understand them. I wouldn't say it creates any extra awareness, but the main benefit for us as a business is to see our reach and consumer engagement by searching our hashtags. We haven't seen much benefit from using them," Lipari said.
However, Stockard said he believes that hashtags can be useful if the audience is already familiar with their use on Twitter.
"I think hashtags are noticed by most consumers but they have to be accustomed to using Twitter to take full advantage of them," Stockard said.
With the hashtag "AlexFromTarget" going viral on Twitter because of teenagers on the website, the hashtag took full advantage of in this case, the newest Internet sensation, giving instantaneous fame to a regular Texas teen. In the process its also generating copious amounts of business for Lee's employer.
"It appears that a fangirl associated with the marketing firm Breakr actually inserted Alex into the viral process. It also appears that Breakr was in conversation with Target about using Alex. So, I think that we're looking at a demonstration of the power of a meme being harnessed by a marketer," Stockard said.
During Lee's appearance on The Ellen DeGeneres show, DeGeneres asked Lee if he planned to take advantage of his new found fame.
"Do you sing? Do you have any other talent? We should take advantage of this," DeGeneres said.
Lee, who presently has 736,900 followers on Twitter but does not consider himself to be a celebrity said, "I can apparently bag groceries pretty well."
Amber Rocha
Staff Writer
Published November 19, 2014