'Dumb and Dumber To' comes up short
Evan's Angle: Movie Review by Evan Engel
I remember the first time I watched "Dumb and Dumber." At one point I couldn't stop laughing for about 15 minutes straight, and ever since then I've seen it countless times. Now that its sequel, "Dumb and Dumber To" has finally been released, you can only imagine my excitement to see it. Unfortunately, it just wasn't the same even though it tried very hard to be.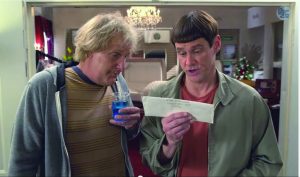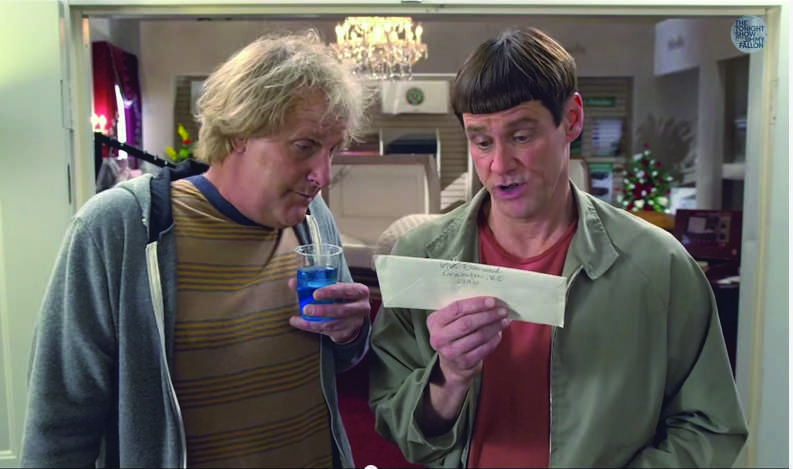 Aside from its achingly painful plot, Jim Carrey and Jeff Daniels both deserve to be judged completely separate from the film itself. If it wasn't for the two of them, the Farrelly brothers (co-writers and directors) may have never gotten their career going in the first place. Twenty years later, they try to keep the comedy style the same way they did back in the 90's. Without a doubt you'll laugh throughout the film, but not before squirming in your chair first.
The story revolves around the two idiots themselves, Harry Dunne (Daniels) and Lloyd Christmas (Carrey), as they travel to Texas in hope of finding Harry's newly discovered daughter. When Harry learns he needs a new kidney, he hopes that his daughter might be able to donate one to him. At first, Lloyd remains adamant against taking another road trip but when he sees a picture of Harry's daughter (who is gorgeous) he instantly becomes infatuated with her.
They set off on another ridiculous excursion where, of course, they meet some bad guys along the way who are up to no good.
The Farrelly brothers deserve credit for at least attempting to fall back on aspects from their first "Dumb and Dumber" which worked well the first time around. But as mentioned earlier, it just wasn't that same raw humor that once made me laugh non-stop.
This film has more slapstick comedy roots than the first one. Throughout, I couldn't get over how both Carrey and Daniels remind me of comedy legends such as the Marx brothers and the Three Stooges. While it may seem like an easy role to pull off, a lot of people still don't understand how difficult comedy is, especially in today's world.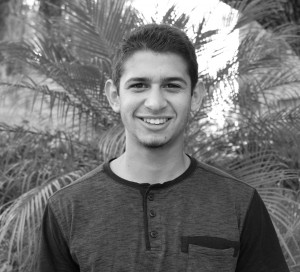 Carrey, who was once the highest paid actor at one time according to massmedia.net, manages to channel his inner Lloyd Christmas amusingly. The only thing is that he's way more over the top this time. His counterpart, Jeff Daniels, was actually more enjoyable to watch this time around. Daniels, who is undeniably phenomenal in HBO's "Newsroom," shows his dynamic acting ability by being able to go from playing one of the most intelligent journalists to one of the most dimwitted characters there ever was.
Together, Carrey and Daniels make the best of what they were given in the script. The Farrelly brothers try hard by providing jokes every few seconds but Carrey and Daniels try even harder to bring them to life. I tip my hat to the effort they put out. They did not hold back once during each delivery. After looking at the screen for some time and thinking, "How am I still watching this?," you inevitably find yourself laughing at the two knuckleheads, no matter how dumb it is.
Beware, though, it's quite gross at times. For some reason, the Farrelly brothers love their potty humor. It didn't take one minute for a joke about human excretion to be mentioned. Since it worked so well in the first film, I guess the Farrelly brothers thought they could do it again. On top of that, their love for sexual humor hasn't died down in the last 20 years either. At one point, I found myself in pure disgust of what was going on in the scene (I'd love to ruin it for you but it's too foul).
All in all, I'm not judging this movie based on the picture itself, but rather based on how good it was compared to its predecessor. The only reason I would tell anyone to see it, obviously, is for the comic duo. Carrey, 52, and Daniels, 59, both deserve admiration for trying to recreate roles that were once thought to be a one and done venture. Two decades later they get very close to executing it as they once did but, ultimately, they come up short.
Star Ranking: Evan gave 'Dumb and Dumber To' two out of five possible stars.
Evan Engel
Published November 19, 2014