Holiday happenings survival guide
The holiday season is upon us and with that comes holiday events to attend and a sense of urgency to help others less fortunate.
There are abundant ways to get into the holiday spirit at California Lutheran University and in the surrounding community.
Sarah Mota, a first-year student at Pasadena City College, knows this better than anyone. She is involved with her local adopt-a-family charity and has been working hard to collect toys for the child.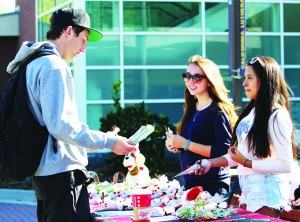 "It's great feeling to be able to help out a kid in need and bring joy to them during the holidays," Mota said. "We all get so caught up in shopping and receiving gifts that we forget what is really important and I didn't want to lose sight of that this year."
Mota launched a full social media campaign, reaching out to friends, family and anyone who would be willing to donate on Facebook, Instagram and Twitter raising $200 to fulfill at least part of the wish list provided by her "adopted" child.
Adriana Jimenez, a student at Santa Monica College, was excited to donate and send boxes to children across the world through Operation Christmas Child.
"You fill a shoe box with items for a child and send it off and that shoe box makes their whole holiday," Jimenez said. "The simplest things that we take for granted can make a world of difference for a child."
Jimenez and her younger brother have been packing shoe boxes for Operation Christmas Child since their childhood, a tradition instilled in them by their parents.
"I am so grateful to my parents for starting my brother and I on this since we were young. It's a tradition I hope to continue with my own children one day," Jimenez said.
Jimenez has also spread the tradition among her group of friends.
"My friends and I have annual holiday parties and over the years I have made it a priority to pack shoe boxes for Operation Christmas Child," Jimenez said. "Now it has just become a tradition and my friends are excited for it every year."
At Lancaster High School, senior Vanessa Barrios has begun collecting letters to Santa in benefit of Macy's and their partnership with Make-A-Wish. For every letter Macy's receives, the company will donate $1 to Make-A-Wish.
Barrios has made it her mission to send 200 letters.
"I don't think it's an impossible goal," Barrios said. "I'm using Facebook, Twitter and Instagram to get word out of all the letters I need. People at school and church are participating. My family is participating."
Barrios has about 100 letters so far but she would like to reach 200 before Dec. 18. That is when the company will announce if it has broken the Guinness World Records Achievement for the longest wish list to Santa Claus.
"I would love to help break the record for longest wish list to Santa. And that $200 that the 200 letters will raise would be the most incredible thing I've ever done," Barrios said.
With everything going on this holiday season, Mota has one request.
"Definitely eat, drink, be merry and enjoy your holidays but always remember the true essence of the holiday spirit. Giving is more fulfilling than receiving," Mota said.
There are tons of holiday events happening around Ventura County and most of them are free.
Taking place on Dec. 10 and Dec. 17, Camarillo Ranch in Camarillo, California. will present Santa Nights. Children will have the opportunity to visit with Santa while adults have the option of touring the Victorian mansion from 1892, decorated for the holidays. There will be the opportunity to feast on food from Scratch, a popular Ventura County food truck.
In Westlake Village, California, the Bethlehem Experience will be held on Dec. 12-13 from 5-9 p.m. Westminster Presbyterian Church will be transformed into a recreation of the first century village. Theatrical lighting, realistic sets, props and over 100 members of the congregation all come together to transport visitors back and give them the most real Bethlehem Experience possible.
At the Ventura Harbor in Ventura, California, Dec. 12-13 will be the 38th Annual Holiday Parade of Lights and fireworks festival. This year's theme is Holidays Across the World. This event will include a carnival, seaside shopping and dining, the lighted boat parade at 6:30 p.m. and fireworks festival at 8 p.m. On Dec. 13, Cal Lutheran will host their annual Kwanzaa celebration from 10 a.m.-2 p.m. in Gilbert Arena. The celebration will include gospel music, dance and traditional African and African-American food. Cal Lutheran students will perform a Kwanzaa ceremony.
Though all of the community holiday events happening all around Ventura County add to the holiday spirit, nothing truly completes the feeling like helping those around you.
Amber Rocha
Staff Writer
Published December 10, 2014