Ricky Johnson fought through his Rheumatoid Arthritis and rushed for over 500 yards and six touchdowns for the Kingsmen in 2014
California Lutheran University students have watched junior running back Ricky Johnson fight for yards each Saturday on the football field. What they didn't see, though, is the battle that Johnson fights off the field-Rheumatoid Arthritis. The story behind the boy who at times could not tie his shoes or get out of bed is one of hope not only to live, but to live while doing what he loves.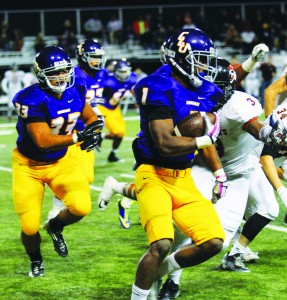 The 23-year-old was 19 and playing football at Citrus Junior College, when he woke up one morning with swollen fingers.
Johnson was playing football and dancing at the time so he thought this high level of activity might be to blame. Johnson consulted his trainers.
"My trainers said, 'okay, maybe we're overworking you. Don't do any workouts this week and we'll see what happens,'" Johnson said.
Despite taking it easy on the football field, his symptoms only got worse.
"My feet started hurting. It would hurt during the morning and then go away… That week went by and it didn't get better," Johnson said.
That's when Johnson's trainers recommended that he see his physician.
"I went to the doctor, told her all my signs and symptoms. She did a full blood panel and everything… then she found out that it was Rheumatoid Arthritis," Johnson said.
Rheumatoid Arthritis, according to Johnson, "has nothing to do with regular arthritis, where you over work your joints or get older. It has to do with my immune system malfunctioning. My immune system is attacking itself, specifically my joints, rather than attacking bacteria and viruses like a normal immune system would."
There is no cure to the disease.
"Some days were better than others. Some days I would wake up and literally could not move. The simplest things like brushing my teeth and putting on my socks would hurt. My grandma would have to lift me out of bed. She would tie my shoes for me," Johnson said.
"Basically, people thought football was over," Johnson said. He explained that his mom and some of his friends were the people who still supported Johnson's dreams for football.
"People would say, 'maybe you shouldn't play football again, maybe you should just focus on school and trying to get better,' but I love football so I always wanted to play again," Johnson said.
Through the pain, Johnson pushed himself to go to the gym and work out on his own. Near the end of 2013, his medication started to take effect.
"That's when I started to feel good, I could run a little faster and I really started to push myself… I started to think, 'I can actually play again,'" Johnson said.
Johnson then contacted his junior college coach.
"I told him I was doing better and I was ready to play again. Without hesitation, he sent my information to all his contacts," he said.
The next day, Johnson started getting calls from universities.
Cal Lutheran's football recruiting coordinator and lineman coach, Anthony Lugo, was the first person to call.
"My mom and I came to CLU for a visit and we loved it. We liked the coaching staff, we liked the school and it was close to home," Johnson said.
Johnson spent his first semester becoming one of the go-to running backs on the Cal Lutheran football team.
Jordan De Leon, a freshman running back on the team, said that Johnson has quickly become like a brother to him.
Johnson said that out of all his teammates, De Leon knows the most about his Rheumatoid Arthritis.
"Ricky loves the game of football and plays with or without pain. The coaches know of his arthritis and are always making sure that he's alright to practice or play," De Leon said.
"Ricky is a great friend, one of my best. He has overcome a lot of adversity," said junior wide receiver Jojo Curiel. "Ricky is a man on a mission to prove a lot of people wrong."
De Leon described Johnson's personality the same way many of his teammates do.
"He has a great personality. He is always positive and happy," De Leon said.
Johnson credits his health and comeback to this positive attitude.
In terms of the future, Johnson is hopeful that a cure to Rheumatoid Arthritis will be found.
"In the long run, your body builds immunity to medicines. Eventually, my medicine will stop working and I will have to try something new, unless they find a cure. It's inevitable that the arthritis will come back," Johnson said.
Still, Johnson tries to look on the positive side and continues to work hard at becoming the best football player he can be. Because of his dedication and work ethic, Cal Lutheran students will be seeing Johnson back on the football field next season.
Rachael Maurer
Staff Writer
Published December 10, 2014