From Europe to CLU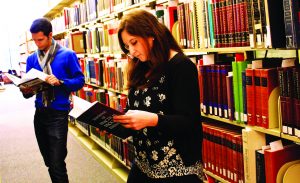 California Lutheran University has been home to many foreign exchange students from around the globe, whether they are here for a semester or all four years.
Twenty-two-year-old Pierre-Oliver Valette and 21-year-old Cendrine Leloup are both foreign exchange students from Paris, France. Charlotte Luisa, is from Oslo, Norway.
While Valette and Leloup are first semester transfer students from a business school in Paris, Luisa started her first college experience at Cal Lutheran.
"I started college here but I started as a sophomore because your last year of high school there [ Norway ] is the same as the first year of college here. So I got all my classes transferred," Luisa said.
It's Leloup's first time here in the United States. Before arriving in California, Leloup and Valette spent five days in New York City.
"It's actually my fourth time here in U.S. and my third time on the West Coast,"  Valette said.
Valette has also done a semester abroad in Copenhagen, Denmark in 2012, while Leloup did a semester in Dublin, Ireland two years ago.
The students are enjoying their time at Cal Lutheran but what they miss the most is the food from their respective countries.
Valette's favorite food from France is saucisson, a very thick dry sausage made of pork, and also the baguette, a French bread. One of many French rituals is wine.
"In France we usually have a drink at the end of our day," Leloup said.
In addition to French and English, Valette and Leloup also speak Spanish and a little bit of German.
Valette and Leloup are business majors with an emphasis in communication and marketing. They'll be getting their degrees in 2016.
Luisa is double majoring in global studies and communication with an emphasis in public relations.
These three students have expressed their desire to stay in the U.S. and continue with their careers.
Leloup would love to work in the public relations field as well as in digital communication focusing on cinema production. Valette said she wants to organize the Oscars.
"I would like to build my own company," Valette said. "I would also like to be a producer or director."
Luisa already started her own business – a trade company that produces basic clothing which is based in India. She is busy finishing the drawings and designs.
If given the opportunity these students want to stay here and pursue their career paths in the U.S. to expand their knowledge and make a difference.
"I appreciate the American mentality. It's different and everyone is very positive,"  Valette said.
These students know exactly what they want to do and are very passionate about it, whether it's their love for cinema or their concern for the environment. They're here to inspire and be inspired.
Wais Niazi
Staff Writer
Published February 4th, 2015