Noelle Raffy's resume boasts an extensive list of accomplishments in freelance and costume designing and 12 years of experience in the field.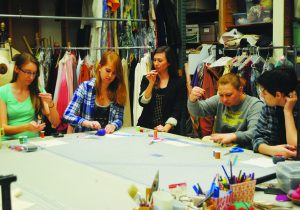 From working on films like "Robin Hood," "Bridge to Nowhere," "Shelter," "Adventureland" and the Oscar nominated film "The Road" to working with English National Ballet School, Raffy set out to add one more accomplishment to her already long existing list: assistant professor in the Theatre Arts Department at California Lutheran University.
Raffy grew up in California, although born in Pittsburgh where her parents danced with the Pittsburgh Ballet Theater.
"I went back to Pittsburgh for my master's degree, which is strange. And then after that, I went to London for five years and I was in London and I was freelancing," Raffy said. "I always had the idea to teach eventually, and I kind of got my foot in the door with University of California, Riverside."
While Raffy worked at UCR  running their shop, designing their shows and teaching their costume classes, a director friend of Raffy's talked about working with the Kingsmen Shakespeare Company at Cal Lutheran and mentioned a spot in the Theatre Arts department might be opening up. He let Raffy know when to apply and put in a good reference. She was called in for an interview and "the rest is history."
"I've always loved Thousand Oaks. It's close to my family and friends that I grew up with. I've been here a year and I really, really enjoy it. Great colleagues, great students and a beautiful location," Raffy said.
Michael Arndt, professor of theatre arts at Cal Lutheran, said he believes Raffy is a great benefit to the university.
"Because the theatre field is a combination of a lot of different disciplines, and because of her background in dance and film and commercial work and regular stage work, it really provides a greater breadth of experience to our students," Arndt said. "She can tap those resources. She brought in the designer for 'Once Upon A Time' and another designer that has done a lot of major film and television work."
Taryn Weller, a fourth-year communication major at Cal Lutheran, took Raffy's theatre makeup class to satisfy a visual and performing art requirement.
"I'm not an artsy person but the class definitely inspired me… she was such a great professor. She is a professor that makes you want to go to class and learn new material. I would recommend the class to anyone, as long as she is teaching it," Weller said.
Arndt is sure Raffy fits right into the theatre arts program at Cal Lutheran.
"She is a very warm and kind person and very much a collaborator. She works well with the whole department and contributes significantly to the department," Arndt said.
Raffy is enjoying her position at Cal Lutheran as it leaves her room to continue with other work.
"It still affords me time to do my freelancing in California. I still work in film and television frequently, and also in the dance world. It's close enough to LA that it'll allow me to pop back for projects. It works out really well," Raffy said.
At a young age, Raffy knew designing would be her career of choice.
"I think ever since I found out that it was a career, that someone actually picks what people wear on stage and picks what people wear in magazines and on TV and in commercials, I wanted that to be my job," Raffy said.
Because of her parents' career, Raffy had a specific love of costumes that paved the way for her career.
"I worked in the fashion industry. I designed lingerie, children's wear, yoga wear, sleep wear. I worked with some really great companies but I always had a love of costumes and creating a character," Raffy said. "Both of my parents grew up in the theatre, they were both ballet dancers, and so I kind of grew up in the theatre. I went on tour with them and was in the wings and backstage all the time. So I wanted to go back and get my degree in costume design."
Having attended Otis College of Art and Design where she received her Bachelor of Fine Arts in fashion design, Raffy made the decision to expand her knowledge and education in the field and completed the master's program at Carnegie Mellon University, receiving her Master of Fine Arts degree in costume design.
When designing costumes, Raffy is inspired and influenced by the world around her. History, the textures and colors of fabrics, travel and food are some of the things Raffy draws style inspiration from.
"I'm particularly drawn to Louis XIV of France, Marie Antoinette, Louis XVI of France, those time periods. Also, the 50s, with Mad Men… I love watching films," Raffy said. "I usually pick some weird indie film to watch and figure out who the costume designer was and why they made those choices."
Despite the glamorous, fashionista life Raffy is destined to live, that part of her life does not define her.
"When I listen to music, I listen to anything from Led Zeppelin to Metallica," Raffy said. "I have very eclectic tastes but I like to think I can go camping with the best of them, go to hostels and then also be at those artsy dinner parties. So I adapt well to situations and enjoy life in general. I'm very content."
Amber Rocha
Staff Writer
Published February 4th, 2015