Kingsmen Upset No.15 Chapman
The California Lutheran University men's basketball team completed a very successful weekend that included wins against previously undefeated Chapman and Caltech.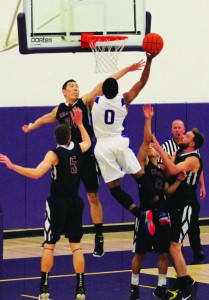 On Jan. 29 Chapman came to Cal Lutheran looking to add another win to their unbeaten record. However the Kingsmen had other plans in mind. Cal Lutheran opened the game with a 11-2 run. However Chapman came back strong and had a 34-33 lead going into halftime.
Instead of collapsing after halftime, the Kingsmen came out strong again in the second half, and led by as many as 15 points.
"You have to realize Chapman is a very good team, even though our energy level was good we knew Chapman was going to come back, but we made some big time plays," said Cal Lutheran head coach Rich Rider about his team's ability to bounce back from Chapman's run.
Just as Rider expected, Chapman did not go down without a fight. The Panthers chipped away at Cal Lutheran's lead and had a barrage of three pointers to make it a 68-66 game with just 29 seconds left in the game. On the ensuing Cal Lutheran possession, junior guard Lanaki Apele was fouled and sent to the free-throw line where he sank one of two shots making it a 69-66 game.
Chapman then took the ball in search of a time tying three and missed. However they were able to recover the loose ball and call a timeout to maintain possession. This effort would end up being fruitless after Chapman missed a second attempt at a game tying three point shot as time expired.
Although Chapman had a size advantage over the smaller Cal Lutheran team, the Kingsmen were able to hold their own in the paint.
One of the standouts was senior forward Coltrane Powdrill who contributed with four blocked shots, six rebounds and 19 points.
"Coach is always telling us to get in there and rebound and crash the boards, and I just tried to do that," Powdrill said.
Not only did this win help Cal Lutheran in the conference standings, the coaches and players also saw it as a momentum builder for the team.
"This puts us right back in the race right now, and we have got to take it one game at a time," Rider said. "We're super high right now because we beat a very, very good team and I'm very proud of our guys, but at the same time we have to come back down to earth and get back to work tomorrow."
Along with Powdrill's 19, senior guard Arik Smith contributed with 18 points for the Kingsmen while Apele led the team with six assists.
Cal Lutheran kept their momentum going on Saturday as they beat the Caltech Beavers 72-52. During the game Cal Lutheran led by as many as 28 points and all 14 players got the chance to see action as Cal Lutheran cruised to victory.
Powdrill continued his strong play leading all scorers with 14 points while also contributing four rebounds and two blocked shots. Senior forward John Green also posted a season-high 10 points off the bench.
The two wins improved Cal Lutheran to 13-4 overall and 7-2 in conference play. The Kingsmen look to finish off their home stand strong when they host Pomona-Pitzer on Feb. 3 at 7:30 p.m.
Cody McElligott
Staff Writer
Published February 4th, 2015