Students Get Involved on Campus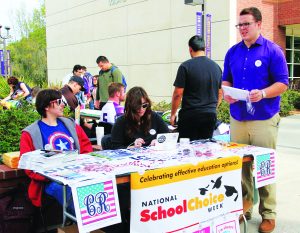 Students walked through the California Lutheran University spine Jan. 28 as many clubs and organizations set up their tables hoping to gain more members for their clubs.
Student Life and the Transitional & Leadership Development put on the spring Involvement Fair. Kaylie Sergott from Student Life ran the front table at the flagpole and said she thinks the Involvement Fair is a great way for students to get more connected with the school.
"It's really good to get involved with clubs on campus not only for connections of friends but also for resume building and professional growth which the Transitional & Leadership Development is all about," Sergott said.
Among the many clubs on campus, Cal Lutheran's ice hockey team has been growing in popularity in the last couple years. Senior Antonio Foreman, team captain, used the spring Involvement Fair to recruit students for their last home game against Chapman which was on Jan. 31 and to also recruit future players for next year's season.
"We have had some pretty decent crowds at our games lately which has made us perform better, which is all from more awareness of our team on campus," Foreman said.
Junior Dakota Reistad said he found the Involvement Fair a success. After speaking to many clubs, he spoke with junior Aaron Bowman, captain of the rugby team, who convinced Reistad to join the team this semester.
"I'm really looking forward to playing with these group of guys this semester, it should be lots of fun," Reistad said. "It's good that we have such a wide variety of clubs here at CLU. I feel everyone can find a club that they can get involved with."
Sophomore Max Rappoport said he enjoyed seeing the campus so alive during the Involvement Fair.
"I came today looking to find some cool clubs, so I can get involved in some sweet extracurricular activities," Rappoport said. "I think it's a great atmosphere for the campus to have everyone out and talking to new people and making new friends."
Sean Hernandez from Young Life: College club said the group meets once a week and partakes in lots of different event around campus.
The club has an annual trip to Mexico every semester doing volunteer work in different cities.
"We are all about having a good time with each other and the goal is to grow in faith together," Hernandez said.
Student Life was also promoting the third annual 5k Color Run to be held on Jan. 28 on campus.
Sign-ups are all online at the Hub on Cal Lutheran's website and registration is $5.
Sign-ups for the non-Cal Lutheran community will open on Feb. 9 and students here on campus can sign up today.
For more details, check out the Hub online or contact Student Life.
Connor Sipes
Staff Writer
Published February 4th, 2015