The California Lutheran University meal plan continues to be a hot topic among students as the spring semester begins.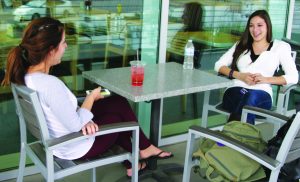 Last semester Cal Lutheran introduced the new Ullman Commons and an updated meal plan. It gives residential and commuter students a variety of plans with specific times to receive meals. This change sparked controversy among students who felt the plan was restricting and unfair.
Sophomore Nicole Zorin began a petition to return the meal plan from the previous year.
She started off the fall semester listing a petition containing more than  500 signatures. After a semester Zorin said she feels like students are still frustrated but support for the petition has declined.
"I'm still very passionate about it, but I have been very busy," Zorin said. "Students are still frustrated, but since there were no immediate results with the petition, everyone thought nothing would ever change."
Zorin said she did not initiate the petition confident that it would do anything and was aware it would be a long process. She feels that it's the responsibility of the school to make the students who are buying and spending happy. However she said students should take things into their own hands.
"As a student I have an obligation to make the population happier," Zorin said.
She will continue to speak to staff and students who feel the meal plan is an inconvenience. She welcomes those who oppose the current meal plan to get in contact with her and work together.
Zorin is starting from scratch with her approach and so is Cal Lutheran. Associate Director of Student Life Christine Paul confirmed, via email, that Tom Visvikis, the director of auxiliary services, was the person "previously in charge of Sodexo, but as of last week has taken a new job on the East Coast." Paul did not specify the new job, but the position is currently up for hire.
Zorin disagrees with the plan but some students are divided on the subject. A mandatory meal plan for a Cal Lutheran resident student costs up to $6,000 total yearly.
However administrators have multiple plans for students living off-campus. This plan includes 25 meals and a combo plan. This works out to $7 meals in the Ullman Commons with $400 munch money. Paul said this plan is popular among commuters.
Other private schools differ in their plans.
Azusa Pacific University's meal plan costs $2,390 per year for the highest available meal plan option, whereas Pepperdine University costs $5,780 per year for their highest meal plan. Pepperdine uses Sodexo, the same dining service as Cal Lutheran. The average CSU plan, using Northridge as an example, is $3,628 for their highest available meal plan.
However, there are students who feel they could get used to the updated plan.
Sophomore Sarah Delgado said that she thinks it just needs some getting used to.
"We went from having total freedom to a strict schedule," Delgado said. She said that in a perfect world she would eliminate the time slots to guarantee students receive what they paid for.
Delgado said the time slots are the real issue and with the time slots gone "the meal plan will not be abused and students can have more flexibility of when they can eat." She said she hopes that bonus points based on the meal plans will be available to students living in standard housing.
Mary Callaway
Staff Writer
Published February 4th, 2015