Retired Cal Lutheran Inventor and Professor Dies
February 4, 2015|64 Views
On Jan. 18, a retired California Lutheran University professor died of natural causes at the age of 80.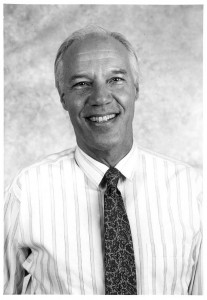 Doctor Kirkland Gable, known as Kirk by his colleagues, was an inventor and psychology professor at Cal Lutheran for just under 30 years.
"He loved his students," professor Steven Kissinger said. "He was a great professor. He loved to teach and he was always dedicated to making sure that his students did well."
Keeping his students attention seems to have been one of  Gable's talents.
Not only did he wear Mickey Mouse ears to the first day of the semester, he would also reward students who correctly answered questions with strange artifacts or the occasional worm cake.
When teaching his students about schizophrenia, professor Julie Kuehnel said she remembered Gable would often dress strangely and act a bit "quirky" to show his students what it might appear like if he suffered from schizophrenia.
"He had this way of always looking at things sideways," Kuehnel said. "He had this incredibly creative mind, which he applied to everything… he was a riot."
Gable often used his "creative mind" for inventions that could be both practical and out of the ordinary.
Aside from co-inventing the ankle monitor used for house arrest with his twin, Robert S. Gable, he also created a "medicinal cookie" for holiday parties. When making the sugar cookies Gable would add Pepto Bismol to his frosting so that you could eat as many as you wanted and not get an upset stomach.
However Kissinger said they didn't taste that great, so you wouldn't really want to eat that many.
"He always reached out and asked if there was anything he could do to help," Kissinger said. "He invited me over to his home quite a number of times for dinner parties and things like that to make me feel welcome here [at Cal Lutheran]… He mentored me in a variety of ways, not just the academic ways."
Gable had a lot to offer. Not only did he have a doctorate in counseling psychology from Harvard University, but he was also a lawyer and penned four books and at least 60 articles over his lifetime.
One of his articles was used by a Supreme Court majority decision citation. He was even a licensed hypnotist and was said to hypnotize his students often.
Kuehnel also said Gable told her he served on a commission having to do with the safety of the president for a few years.
"Professor Gable's legacy will extend far beyond his publications and patents—his legacy lies in the students he taught for nearly 30 years here at Cal Lutheran," President Chris Kimball said in an email interview. "It has been touching to see how fondly he is remembered by students and colleagues for his passion for teaching and broad range of interests."
When Gable was teaching at Cal Lutheran, even students who didn't take his classes knew who he was.
He was the recipient of the Professor of the Year award multiple times, as chosen by seniors.
Those who worked with him during his 30 years at Cal Lutheran said his love for students and for teaching was how they will remember him and hope others remember him.
He was an asset to the Cal Lutheran psychology department even after his retirement in 2004.
Gable left behind his wife, Colleen Ryan, his daughter Sandy Ryan, his son Eric Schwitzgebel, and his twin brother Robert S. Gable.
In July the family hopes to hold a parade and pool party in his honor to celebrate his exciting and influential life.
Sydney Dawn
Staff Writer
Published February 4th, 2015