Speak Italian, Think Italian, Live Italian
February 11, 2015|7 Views
Imagine a time where you had to stand in line at the Registar to register for your classes face to face. As you wait, all you can do is frantically watch as your classes begin to close and the line in front of you is at a stand still.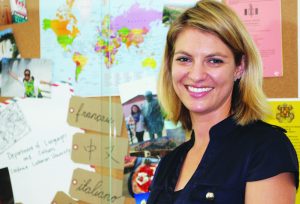 As Brittany Asaro was looking through the course catalog to find a new class to replace the one that had just been closed, she saw the Italian class and thought to herself, "Okay, I'll be able to speak to my grandfather at the next family reunion. It'll be something fun."
Asaro, like most undergrad students started in Italian 101. This introductory course sparked her love for the Italian language and she continued to work her way up until she received her Doctorate in Italian Renaissance literature from the University of California, Los Angeles.
Asaro grew up in Southern California and attended several events held by Christ Lutheran Church in Valencia. Many of those events were at California Lutheran University.
When Asaro was on the job market she researched what universities offered an Italian program because, according to Asaro, in Southern California they're not as common as they are back east.
"I looked at the course website and saw Dr. Sheridan Wigginton's, profile and I also saw that it said Cal Lu offers Spanish, Chinese, German and French and that they had an eye toward the future and they mentioned Farsi, Japanese and also Italian."
According to the Chair of the Department of Languages and Cultures at Cal Lutheran, Wigginton said the goal of the language department is to use language to do something else with and not just know the language but use it as a tool to get something else done.
"I really like the idea of language as something useful that connects to something else," Wigginton said. "Dr. Asaro's ability to connect to the music department, to art, to the communication department just really emphasizes that."
According to Wigginton a large push for Italian classes to be offered at Cal Lutheran came from Club Italia, the Italian club on campus.
"I went to Fiesta Italiana, had a great time, met a lot of the officers and they made a big push for teaching Italian classes on campus," Wigginton said. "They were really enthusiastic about the language, the culture and the country, getting as much experience as they could. But they couldn't take classes here so it was on our radar."
Cal Lutheran is now offering two elementary level Italian courses, Italian 101 and 102, both taught by Asaro.
"By the end of two semesters students are able to have basic conversations in Italian, talk a little about the past and talk a little about the future," Asaro said. "They have a very nice breadth of vocabulary and they also learn a lot about Italian culture."
Michelle Cerami, a second year student at Cal Lutheran, double majoring in religion and sociology, chose to fulfill her language requirement by taking elementary Italian.
Cerami took Italian 101 in the fall and is now taking Italian 102 this semester.
"It's a really great dynamic. Asaro makes it so that we become friends with people in class. She teaches us the topics and then immediately afterwards we're talking to our classmates about it," Cerami said. "I get to learn all about my classmate's family, what their hopes and dreams are, what they want to do for their life and you can't help but get to know people through that."
Asaro hopes to expand the program in fall 2015 by offering an Italian Renaissance literature course.
Wigginton is on board and said administrative details are being hammered out behind the scenes.
"Because of Dr. Asaro's phenomenal background from UCLA, she's got a lot of other areas in Italian content that she could teach," Wigginton said. "We're looking at doing a literature class that would connect with art or religion. What the students get is a way to continue their study in Italian which is what we really want."
For students who would like to enroll in the Italian course but are not sure how it would apply to their life, Cerami has some advice.
"Come with an open mind. Maybe it's not going to be the most applicable to your life, but do Italian because you want to enjoy yourself," Cerami said. "It's just an incredible experience. Come being open to being close with your classmates. Come being open to hang out with professoressa. Have a good time with it. Enjoy it."
Amber Rocha
Staff Writer
Published February 11, 2015