Performing is like Therapy
California Lutheran University students gathered at Jack's Corner Feb. 3. for The Need: An Open Mic Night, where a variety of students performed and expressed themselves through music, poetry, comedy and everything in between.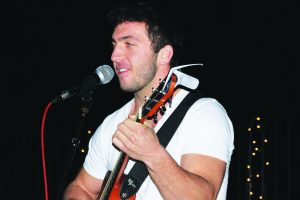 The Need was held by the Associated Students of California Lutheran University Government and coordinated by ASCLUG Recorder Natalie Kalamdaryan. This was their third event and despite the cold night many students came and enjoyed the performances.
The event was previously organized by Student Life years ago but Kalamdaryan thought it deserved to be brought back at the beginning of the fall semester.
"Conversations about The Need started happening, and being a music production major myself I'm a huge fan of open mic nights, so it seemed like a great opportunity for students to perform on campus," Kalamdaryan said.
She said she is proud ASCLUG created this platform for the students and believes this is an important event for the Cal Lutheran community.
"The reason why it's called The Need is because it fulfills student needs of expression," Kalamdaryan said.
She said The Need is open to everyone and the environment is informal. Students will be at ease expressing themselves freely without judgment.
The performances varied from music, to poetry, to comedy creating an ambiance that was diverse and interesting for viewers.
Senior Jamin Watson performed a spoken word piece. He also performed at last semester's The Need in October. He said events like these are important not only for self-expression and performance but meeting other people with common interests.
"I think it's one of those things that you've just gotta do. You gotta network and meet other artists," Watson said.
Watson has been writing pieces for as long as he can remember and performed in recitals when he was younger. Watson enjoys writing his own material and wrote the piece he performed about America the night before.
He said spoken word can start a conversation among viewers and liked that he has a place on campus to express himself.
"I think a lot of people should do it. It's in a sense like therapy, and if I can touch one person then I've done my mission," Watson said.
Another performer, student Danielle Montoya, performed two spoken word pieces.
"I usually don't have a forum to say my spoken word so this seemed like the perfect place to do it," Montoya said.
Montoya has been writing poetry since high school and has been performing for over a year and a half.
Montoya said she enjoys performing live and how having an audience makes a huge difference. She said the vibe and reaction from the audience helps her perform.
Music performances were by far the most popular. Even Kalamdaryan sang an original song. This was her first performance playing guitar and singing at the same time and she was very excited about it. She says she always likes performing at The Need because it's a great opportunity for performers.
She's been singing since she was 12 and began playing the guitar three years ago. Since music is something Kalamdaryan is passionate about, she said she could not miss the chance to perform at her own event.
She also expressed her excitement for the event's continual growth and thought the event has only gotten better.
ASCLUG plans on having The Need every first Tuesday of the month. Kalamdaryan said she welcomes possible performers to email her prior to the event.
"It's nice that we get to create a platform for students. It's a fun night to create community, get entertained and just have fun," Kalamdaryan said.
Mary Callaway
Staff Writer
Published February 11, 2015