Community of Hope: Cal Lutheran Alumna is Looking for Bone Marrow Match to Help the Family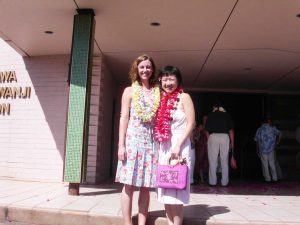 The four or more years you spend earning your college  degree provides much more than a diploma. Those four years also build the foundation for your network of friends.
It's easy to maintain friendships when all your friends live down the hall, across Kingsmen Park or even down Lynn Road. But graduation usually means the friends you've spent so much time getting to know will soon be scattered across the country or even the globe.
Often times many friendships are built during good times, but as Walter Winchell once said, "a real friend is one who walks in when the rest of the world walks out."
So is the story of California Lutheran University alumnae Heather Teoh and Dianne Frehlich. When Dianne Frehlich's husband was diagnosed with Acute Myeloid Leukemia in 2012 just after their twin boys came home, she called Teoh to come stay a few weeks for moral support.
Teoh cooked the family healthy meals, cuddled the newborn babies and slept on the floor for almost two months because the Frehlich's had just converted the guest room into the nursery.
Teoh was born and raised in Singapore but attended and graduated from Cal Lutheran in 1998 with a degree in communication. Teoh also wrote for The Echo student newspaper and was a member of the United Students of the World Club.
Dianne Frehlich graduated from Cal Lutheran in 1997 with a degree in business administration. She was a resident assistant and was in charge of the student store for New West. Dianne Frehlich also ran track and participated in student government as a commuter rep.
"Dianne was really active at CLU. She was really loved by professors and students alike and many of her friendships have lasted beyond graduation," Teoh said in an email interview. "She's incredibly generous, funny, intelligent and despite all the stress she's in, she remains very positive. Friendships made in CLU can certainly last for a lifetime."
While at Cal Lutheran Teoh and Dianne Frehlich knew of each other through mutual friends, but they didn't become good friends until they met again in 2003.
Frehlich was getting ready to go to Singapore for a business trip and was seeking advice from Teoh as to what sites she should see and the best restaurants to try.
From that point on, their relationship blossomed on a shared love of food and travel. Throughout the years they took spontaneous road trips to San Diego and even jetted off to Hawaii.
"Before I moved home to Singapore, we made it a point to meet for dinner and coffee. Even though our lives are vastly different, we make it a point to keep in touch," Teoh said.
Although the pair can no longer meet for spur of the moment road trips or go to Pookies, their favorite Thai restaurant in Westlake Village, Calfornia., Teoh said this has made them even more conscious of staying in touch.
"Technology is the best tool ever," Teoh said. "Instant messaging makes it feel like we're down the street from one another, not 8,000 miles away. I feel that we've gotten closer even though there have been so many changes with me moving back home and Dianne getting married and starting a family."
Dianne Frehlich met her husband, Dr. Shane Frehlich at California State University, Northridge while she was completing her master's degree in kinesiology.
"Before they got married, Dianne would talk about Shane constantly. She had the fattest crush on him and we used to call him Dr. F like he was a character in a Jane Austen novel," Teoh said. "She printed and kept all his emails in a folder so she could re-read them. I've visited their home a few times over the years and Dr. F lives up to the hype. Shane's very intelligent, witty, thoughtful and a loving husband and father."
Shane Frehlich is from Canmore, a mountain town outside of Calgary, Alberta in Canada. He attended the University of Calgary for his bachelor's degree and then went on to the University of Florida for his doctorate in kinesiology. He is now a professor of kinesiology at Cal State University, Northridge.
Shane and Dianne were married in 2008 and had twins, Max and Miles in January of 2012 and welcomed their son Jonas in October 2014.
In 2012 Shane Frehlich was diagnosed with Acute Myeloid Sarcoma, also known as Acute Myeloid Leukemia.
While Shane Frehlich was on paternity leave with the twins, he went to three dermatologists to find out what the mark on his cheek was. After undergoing a few biopsies he was diagnosed with the disease.
"When my husband was diagnosed I called Heather to ask if she would come and stay for a couple weeks for moral support," Dianne Frehlich said in an email interview. "There was no one else I would feel comfortable asking to give up their own life to help. It was a humbling experience, but I feel so thankful that she was there with me."
According to the National Cancer Institute, Acute Myeloid Sarcoma is a cancer of the blood and bone marrow which makes abnormal myeloblasts, a type of white blood cell, red blood cells or platelets. This type of cancer usually gets worse quickly if it is not treated.
"He went through four rounds of chemotherapy which gave him a 60 percent chance of cure," Dianne Frehlich said. "However the best chance for a cure is to have a bone marrow or stem cell transplant."
Shane Frehlich is one of the few Caucasians in which there was not a match in his family or bone marrow registry which meant the best option for treatment was to keep undergoing chemotherapy.
"In October, Shane went in to the doctor for routine blood work and we noticed his numbers going down. After a bone marrow biopsy, we learned he had a relapse," Dianne Frehlich said.  "Now we are trying to make it through more chemotherapy and some sort of transplant. Shane is currently getting treated at City of Hope."
In October 2014 the Frehlich's welcomed their third son Jonas. According to Dianne Frehlich, he was born premature, due to a complication of a syndrome he was born with. During pregnancy they were told he had an Omphalocele and Beckwith-Wiedemann syndrome.
According to the National Library of Medicine, BWS is a congenital growth disorder that causes large body size and large organs. Omphalocele is a birth defect in which the infant's intestine or other abdominal organs stick out of the navel.
"We were warned that he might not survive. He was a jolly 5 pounds 3 ounces at birth," Dianne Frehlich said. "He will need a few surgeries and is at risk for childhood cancers. He seems to be doing well right now."
In November of 2014 Teoh created a GoFundMe page for the Frehlich family. According to the website, a GoFundMe page is a crowd-funding platform that allows people to raise money for events ranging from life events such as celebrations and graduations, to challenging circumstances like accidents and illnesses.
"I felt very helpless being so far away when Shane [Frehlich] was diagnosed and Jonas [Frehlich] was in NICU. I wanted to do something to help," Teoh said. "Dianne is a rock star friend. No matter how busy she is with her family and work, and in the midst of all her problems, she has never failed to ask how I am and remembers things that I've talked about. She's the same with her other friends too. We always talk about how amazing she is."
After years of medical costs, the Frehlichs are tapped out of resources, according to Dianne Frehlich.
"Aside from easing financial worries, another outcome of the GoFundMe page is that both Shane and Dianne have had an outpouring of love and support from friends, family, coworkers and even strangers," Teoh said.
In addition to donating money there are other ways to get involved to help the Frehlichs, such as registering on bethematch.com, to be a bone marrow donor. Many people have also signed up for meal trains and have even organized fundraisers and bone marrow drives.
"The simple fact that Heather found a way to try to support me from across the world demonstrates what a remarkable friend I made at CLU. It's a very special thing to find a friend who sticks around when things get rough. I feel so lucky to have her," Dianne Frehlich said. "Not only did she start the campaign, but she brought awareness to our extended family and friends.
You can donate to the GoFundMe page and register to be Shane Frehlich's match at www.bethematch.org by filling out a form online.
If you believe you can be the match for Shane Frehlich enter "hope4shane" in the promo area to expedite the process. Be the Match will mail you a registration kit that has a cotton swab and instructions.
"I hope the CLU community will rally together to help one of their own whether it is through donations, registering to be a potential bone marrow match for Shane or sending encouraging messages for Dianne, Shane and their son Jonas on the GoFundMe page," Teoh said.
Drew Thomas
Features Editor
Published February 11, 2015