KCLU, the FM radio station affiliated with California Lutheran University, won five Golden Mike awards this year, including the awards for Best News Reporting and Best Newscast.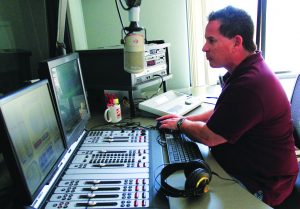 The station which broadcasts in Ventura County at 88.3 FM, has won over 80 Golden Mikes since 2001 and 95 major journalism awards in the last five years, according to its website.
"We pride ourselves on being a local news station and doing award-winning local news," said Mary Olson, general manager of KCLU.
KCLU is a National Public Radio affiliate station and integrates nationally syndicated programming and local content into its schedule.
She compared the Golden Mikes to the Academy Awards for radio. Entries are judged by panels of news professionals from around the United States.
"So when you win a Golden Mike, you've really been judged on your merit by other journalists across the country," Olson said. "It's very, very validating for all the work that we've done."
Lance Orozco, KCLU's news director, won four Golden Mikes this year for stories he contributed, including an interview with Sir George Martin, famed producer for the Beatles.
Orozco also won two regional Edward R. Murrow awards last year, one for excellent writing and the other for sports reporting.
"To be honest with you, you do what you do to cover the news," Orozco said. "And sometimes, you know, something comes from it that you don't expect."
Jim Rondeau, who previously was director of operations and programming at the station won this year's Golden Mike for Best Newscast Under 15 Minutes, for "KCLU's 7 a.m. News with Jim Rondeau."
Orozco, who has worked in commercial radio and television, said public radio offered him more opportunities for in-depth reporting.
"I was very excited about having three or four minutes to kind of dig a little bit further into a story," he said.
He also has the opportunity to cover a greater variety of topics that affect local communities – topics that commercial stations rarely address. For example, he mentioned a story about an 80-year-old Spanish-themed gas station that sits unused in Santa Barbara County.
"[Commercial radio] just wouldn't care about it. They'd say it's not exciting enough," Orozco said.
Orozco even reported on his own encounter with kidney cancer in 2012. That story won him a Golden Mike in 2013.
"Being a reporter, I found it interesting to myself," he said.
He said the most interesting part about doing the story was being contacted by people who faced similar struggles with cancer.
"And even though it's been a couple of years, I had somebody just call me about two or three months ago who's going through the same exact process," Orozco said.
From the beginning KCLU strove for excellence. Dan Kuntz, now the men's soccer coach for Cal Lutheran, helped establish KCLU in 1994. For years, all programming was done live from 5 a.m. to midnight.
"It meant training students, faculty and everyone else to help us keep that station professional and on the air," Kuntz said.
Kuntz mentioned a past student named Jeff Barry, a Cal Lutheran junior varsity basketball player who opened the station and hosted the local morning show after NPR's morning edition.
"He actually became very good; covered fires, floods, earthquakes," Kuntz said. "A lot of his stories were put on NPR across the country."
Though KCLU has long since stopped airing student talent, the construction of its current site on the northwest end of campus gave students a new opportunity to learn about radio. Cal Lutheran's student radio station, iCLU, is housed in the same building as KCLU.
"KCLU built iCLU," Orozco said. "We wanted to make sure it was a first-class facility, because up until then there really wasn't anything for the students to use."
Jeff Baker
Staff Writer
Published February 11, 2015