Sam Fischer: Keeping the Dream Alive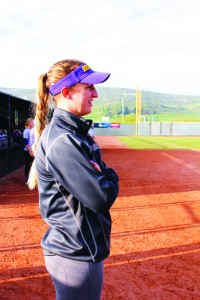 For most athletes, the days of early morning training sessions, the hours-on-end spent on the practice and playing fields and the countless amount of ice and tape used all must end at some point. For some however, the dream continues.
Such has been the case with California Lutheran University's assistant softball coach Sam Fischer who has played on the USA National Softball Team since the summer of 2012.
Fischer, who is in her second year coaching the Regals, was born and raised in Simi Valley. After attending Simi Valley High School, Fischer took her talents to Loyola Marymount University where she received numerous accolades for her play over the course of her career there.
While playing at LMU, Fischer received All-Conference honors in each of her four years and ended her career with nine records to her name. She is also the only All-American in the program's history, according to her LMU softball bio.
Upon the end of her career and graduation from LMU in 2012, Fischer got the chance to prove her worth for a spot on the women's national team that summer.
"It's very stressful," Fischer said. "You're invited to camp and there's about 30 to 35 girls there and you have about three or four days of scrimmages and skill work. Then they email you a list at the end of the week just with names on it  and that's that."
After her tryout earned her a spot on the roster, Fischer and the national team went on to win 2012 Softball World Cup as well as earn a silver medal at the 2012 World Championships.
The following 2013 season, according to the USA Softball website, Fischer missed the cut for the final roster after battling a shoulder injury in the months leading up to the tryout.
She was not done, however, as she came back stronger than ever from her injury and regained her spot on the national team in the July tryouts last summer.
In order to gain this success coming off an injury, it simply came down to what she was willing to sacrifice to obtain her dream.
"From my experience you have to do what no one else is willing to do," Fischer said. "I think putting hard work in and sacrificing ultimately comes down to whether you're going to be as successful as you want to be or not."
Through her time on the national team, Fischer has been able to accumulate the quality experience needed to be a good coach.
However, in the eyes of her players and fellow coaches her national team experience isn't all that matters.
"The personality, experience, and character that Sam brings to our program is even better than saying you have someone from the national team," said head coach Debby Day.
"She's everything we want out players to be," Day said. "Great athletes, great people, hardworking, disciplined but still enthusiastic in having a good time."
The enthusiastic attitude Fischer brings to the game has allowed for her to connect with the players on a very personal level.
"Sam's a goofball," said Day. "She is fun and funny and good at helping us relax while still keeping expectations really high."
Helping the team maintain a level head and relaxed demeanor has much to do with Fischer being a young coach, as she is better able to relate to the experiences her players are going through.
"She has a lot of experience so it's easy for her to coach us," said freshman infielder Antonia Rapisardi. "She's helped me more with the mental part of the game like keeping up my confidence and just staying positive."
Fischer and the national team will continue their play this July where they will compete in the World Cup X in Southern California. Following the World Cup the team will compete in the Pan American Games from July 15-26.
Joe Dalecio
Staff Writer
Published February 11, 2015