Junior California Lutheran University student Yasmine Abdallat has Olympic-sized goals as she begins training to qualify for the 2016 Rio de Janerio games. The equestrian discipline of Dressage is near and dear to her heart.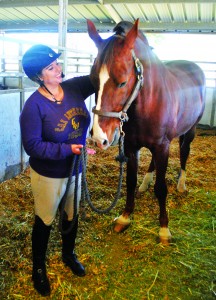 Yasmine Abdallat has been riding horses since she was 10 years old and began competing at 11. She's come a long way since then, currently studying art full-time at Cal Lutheran while spending any free time she has training in hopes of accomplishing a lifelong dream of competing at the Olympics.
"I've wanted to go to the Olympics since 1996. I saw the games on TV that summer, and I knew that's what I wanted to do. It was truly love at first sight," Yasmine Abdallat said.
Yasmine Abdallat was born in Escondido, California but has dual citizenship in the Arab country of Jordan, where her father is from. She went out for the Jordanian Olympic team in 2004, however the horse she was going to compete with died in an accident. Yasmine Abdallat was an alternate but  was not officially  able to compete.
This is why the 2016 games mean so much to her. She's been training to return to every Olympic Games since 2004 but said this is her time to shine.
"For whatever reason the stars were never aligned and that's why I'm hoping for 2016. I'm a more confident rider by far, and I never had this confidence until recently," Yasmine Abdallat said.
Her family is incredibly proud of her accomplishments and  has always supported her dreams. Her father A.J. Abdallat is one of her biggest supporters.
"My wife and I, as well as our whole family, are incredibly proud of all aspects she has accomplished as a rider and as a person," A.J. Abdallat said.
If accepted, she will compete for Jordan again in 2016. They only take around 70 people.
"Even in last place you're still among the best and that's an honor," Yasmine Abdallat said.
If she is placed on the team she will be the second woman to compete on the Jordanian Olympic equestrian team. The first was her friend and supporter Princess Haya bint Al Hussein of Jordan who competed in the 2002 Olympic Games in Sydney.
In an equestrian competition men and women compete against each other. In Jordan horse-back riding is a male-dominated sport, but that doesn't stop Yasmine Abdallat.
"It's a bonus for me. There's more to prove and that makes me stronger," Yasmine Abdallat said.
This is a fact her father, A.J. Abdallat, is especially proud of.
"She's a So Cal girl trying to succeed on a global level. She's promoting the talent and intelligence of women in a country and team with male-dominance. It's a tough journey but a great one," A.J. Abdallat said.
A hard-working and talented rider, Yasmine Abdallat has some impressive titles already. She currently competes in Dressage, a category in equestrian competitions where a horse and its rider perform a routine of lateral movements from memory.
Yasmine Abdallat has been competing in this category for only a few years, but her highest achievement to date was winning the title of Intermediare I Champion at the 2013 Dressage Association of Southern California Championships. She also placed ninth at the California Dressage Society Regionals.
For most of her equestrian career she competed as a jumper, and has made it to the Grand Prix level. She placed third in Rookie of the Year for the Pacific Coast Horse Show Association. Yasmine Abdallat also placed in the Top 12 in three out of four Grand Prixs she competed at in 2010.
Yasmine Abdallat said her 18 years of training didn't come to her easily. She said major injuries halted her equestrian career, such as a compound fracture in her shoulder, five concussions and many more.
"The hard work and the horrible accidents and people screaming at me, yelling at me, calling me names, I lost my confidence. Now I'm finally in a place where I've always wanted to be," Yasmine Abdallat said. 
Her father expressed how difficult the journey has been but reiterated how determined she is.
"One year she was set to take first place, and on the last jump she fell off the horse. Most people, knowing their chances for first are gone, would have stopped, but not Yasmine. She got back on and continued until she was done. I have never been more proud and that is my favorite memory of her riding," A.J. Abdallat said.
Yasmine Abdallat said her parents have always supported her.
"Through times where I crashed and burned they still supported me. Their belief and persistence in me makes them my No. 1 heroes," Yasmine Abdallat said.
Another influence would be her trainer Pamela J. Wangenheim-Hawkins who has been Yasmine Abdallat's trainer since the end of 2011.
Wangenheim-Hawkins came up to Yasmine Abdallat one day when she was practicing and offered to help train her.
"She had great talent but wasn't getting the right education. Technique wasn't being explained too well, and now she has an understanding of it," Wangenheim-Hawkins said.
Wangenheim-Hawkins also said she admires Yasmine Abdallat as a rider.
"She races fast, is athletic and physically capable of doing what I tell her, which doesn't happen very often," Wangenheim-Hawkins said.
Yasmine Abdallat will begin officially training as soon as she receives her new horse from Holland, a 14 year old Dutch Warmblood named Uoeri.
"Through all the blood, sweat and tears, I'm ready," Yasmine Abdallat said.
Mary Callaway
Staff Writer
Published February 18th, 2015