How Prepared is the Cal Lutheran Campus?
In light of recent campus shootings over the past several years, the California Lutheran University community may be wondering how prepared the campus might be in case such an event were to occur.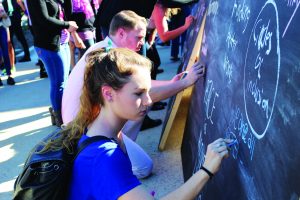 According to CNN.com, since the tragic happenings of the Sandy Hook Elementary massacre in December 2012, the United States averages a school-related shooting once every five weeks.
According to Fred Miller, director of Campus Safety, he and Cal Lutheran have safeguard policies and procedures in case an active shooter was to come on campus.
"Don't assume because we are one of the safest cities in the U.S., bad things can't happen," Miller said. "The probability is low, but you train the best you can for it, for something you hope never happens."
Cal Lutheran is mandated to have an Emergency Operation Plan (EOP). The EOP provides the structure and processes the organization utilizes to respond to and initially recover from events such as fires, earthquakes, gas leaks and active shooters.
According to Miller the EOP has federal standards in case outside agencies need to be contacted.
"In case we have to communicate with outside agencies. Fire department, police department, the city, the county or federal government, they all have the same standard emergency management system," Miller said. "And that emergency management system allows us to coordinate and to talk on the same levels, operations to operations, planning to planning."
Miller said preventing an active shooter entering campus is unavoidable, but there are ways to ensure efficiency and timely response.
"What you really have to train for is if it does happen how do you respond? Can you stop it from happening? No. This is an open campus, but how quickly can you respond and stop it? Your response afterwards is going to be extremely important," Miller said.
Miller said the first line of response is to coordinate with the police. They are the responders to the active shooter.
Cal Lutheran's focus is to secure the campus as best they can while the police are responding. They are responsible for getting the message out to the students, faculty and staff about what is happening and what they need to avoid.
Last month law enforcement of the East Valley Sherriff's Station met on campus on Jan. 5 to engage in active shooter preparedness training, Miller said. At 6 a.m. Swenson Hall was shut down as the police ran drills and worked in collaboration with the local paramedics.
"They trained them how to do entry, how to go in and take out the shooter, and how to work with the paramedics and bring the paramedics in," Miller said.
Campus security isn't the only department trained for such emergencies. Nathan Fall, assistant director for residence life and student conduct, explains part of their job is to train the resident assistants to be prepared for any type of emergency.
"It's more of an institutional approach if something like that was to happen, and then within each department you have your own strategies and procedures in place if a shooting was to occur," Fall said. "We try to inform our students to be responsible to where you're living, to be aware, to report things, to ask questions, to communicate concerns that you may have."
The resident assistants commit to an entire school term, starting just a couple of weeks before the fall semester begins and continue into May, a couple days after commencement.
Fall said the resident assistants undergo a thorough two-week formal training in August, which includes emergency preparedness as well as continued trainings throughout the school year.
"We do monthly one-hour ongoing trainings, on top of anything that comes up weekly, because we have weekly staff meetings," Fall said.
Justin Fallon, a senior resident assistant in Mogen Hall, said he believes Campus Safety and Residence Life do a really great job working together.
"One of our sessions in our training involves working with Campus Safety and they come in and give some sort of geared presentation about things that are of interest or things that are important and relevant to us in our current academic year."
Part of Fallon's duties, as well as all of the resident assistants, is to perform external checks, or outside rounds, where they walk around the building and look for any suspicious activity.
"Another part of the training involves our supervisors and our coordinators to go through our emergency handbook as best as they can to prepare us for any of the situations," Fallon said. "We are all first-aid and CPR certified. That is something that is required of us."
Aside from resident housing, most of the buildings on campus have an internal electronic lock-down function where Campus Safety has the ability to lock down the campus at anytime for such an emergency.
"Every year we look at the campus and we upgrade it… We do know that active shooters will go pull on a door, and they're not going to spend a lot of time trying to get in if the door is locked," Miller said. "Very few rooms on this campus are not lockable… As we remodel buildings, especially where there is executive offices, faculty staff offices or student classrooms, we're putting card readers on them."
Miller said he strongly encourages reporting of any suspicious behavior.
"Be aware of your surroundings. If you see something that doesn't seem normal, say something. If you see something suspicious, say something. We'd rather have hundreds of reports that turn out to be nothing than a student not saying something," Miller said.
Cal Lutheran provides a Campus, Awareness, Referral and Education Team to help students in need.
"The purpose of the CARE Team is to serve the university and individual students by arranging, coordinating, monitoring, evaluating, and advocating for students in need of assistance. Through collaboration and coordination of resources, the CARE Team seeks to foster academic and personal success for students," according to their webpage from the Cal Lutheran website.
Students, faculty, and staff members can contact the CARE Team via email or hotline.
"I think the reality of someone that decides to engage in a mass shooting of some sort, somewhere along the lines they were failed in many ways, right? So I think part of this kind of angle can be that we, meaning student affairs on this campus, try to provide the well-being for all of our students whether you're residential or commuter, and to just know of resources out there to point a friend to, to report someone that is acting a little differently, that there are channels to report all of that," Fall said.
The Cal Lutheran community can learn more about active shooters on the Cal Lutheran website, or they can go to Campus Safety and take a brochure.
"We are as prepared as we can be for an unarmed campus. I think we've done all the right things, and we're continuing to do all of the right things," Miller said.
Daniela Abravaya
Staff Writer
Published February 18th, 2015