Throwing Her Way into Record Books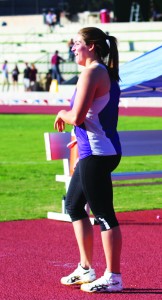 Junior javelin thrower Allie Hadley set a school record on Jan. 31 in the first track meet of the season at Westmont College in Santa Barbara.
Hadley is an exercise science major and is currently in her third year as a member of the track and field team at California Lutheran University. She has competed in the javelin event since her junior year at Bothell High School in her hometown of Bothell, Washington.
Hadley set Cal Lutheran's school record in the javelin event. Previously having thrown a personal best of 46.9-meters, Hadley was able to break this record in her first meet of the season, throwing 48-meters. This also broke the previous school record of 47.14-meters, set by Britlyn Garrett in 2012.
Hadley trains with Cal Lutheran alumnus and assistant coach for the Regals track and field team, Justin Puccinelli. Puccinelli works with Hadley along with the team's other throwers three days per week and does plyometric and resistance training two to three days per week on top of regular team practices.
Puccinelli said Hadley has shown promise from early on in her career at Cal Lutheran.
"Since her freshman year, since the first time I saw her throw, I knew she would break a record," Puccinelli said. "She has a lot of self control. She really wants to be successful."
Training for the event goes beyond exercises or practice. Hadley said she also focuses on time-management and daily discipline. This includes managing her diet and sleep schedules and staying mentally prepared.
Hadley's presence on the team extends further than that of an individual athlete. She also supports her teammates in their individual events.
"It doesn't matter if someone's the best or a first year. She's out there supporting." Puccinelli said.  "She could easily have an ego but she doesn't. She makes everything fun."
Despite her success, Hadley is humble about her accomplishments.
"Allie as a teammate is like having the perfect example of what to do as an athlete and as a teammate. She knows she has talent and she uses it, but she's humble about it and doesn't show off," said fellow javelin thrower on the Kingsmen track team Cody Jones. "You wouldn't know she had a school record unless you looked it up yourself."
Hadley said she is happy with the progress she has made these last two years, but she has goals to push even further. Her goals for this season include throwing 50-meters and taking first place at this year's Division III National Championship after coming in second last year.
"The SCIAC record is 48.5 meters, so my first big goal is to get that. My lifelong goal has been to throw 50-meters. I think throwing 48-meters last weekend was the most exciting moment in my javelin career because I'm finally throwing close to the potential that I'm capable of," Hadley said.
Hadley said she has goals for the short term, but plans could also include remaining in the sport after her graduation in 2016.
"If I end up hitting the 50-meters then I have a really good shot at making it to Olympic trials. So if I hit the 50-meters I would really consider throwing after college and seeing how far it could take me," Hadley said.
Puccinelli is confident in Hadley's future as a javelin thrower.
"We are pushing for 50-meters and even further," Puccinelli said. "She could definitely go on throwing after college."
Hadley says she is excited and ready to see how far she can go this season.
"I'm excited to continue working hard during the season," Hadley said. "I'm really focused on winning Nationals and showing Division III what I've got."
Samantha Chittenden
Staff Writer
Published February 18th, 2015