Helping Out in Mexico
February 25, 2015|7 Views
The Young Life: College club at California Lutheran University went on their annual service trip to Baja California in Mexico Feb. 13-16.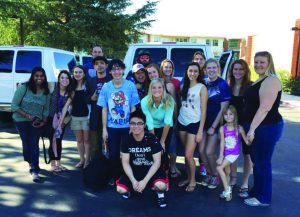 Senior Kendra Varney said she has been participating in service trips every semester ever since she's been a part of the club. She said she has been a part of the club since her freshman year at Cal Lutheran.
"Every semester Young Life: College goes to Mexico, and we serve for a weekend at Rancho Sordo Mudo. It's a school for deaf  kids," Varney said.
According to the Young Life: College Facebook page, Rancho Sordo Mudo is a free Christian home for deaf Mexican children.
Varney, an officer for the Young Life: College club, said they do a service component there and have different projects to work on such as painting, cleaning and so forth.
"There's always a list of donations that they need. It could be food supplies or like clothing, or just like anything else," Varney said.
Junior Nisha Kondrat joined the club last spring semester.
"You don't have to be religious to attend Young Life: College or even the Mexico trip," Kondrat said.
Sophomore Denise Saballos said she joined around last year.
"Every time they have an opportunity to serve, I'm anxious to help out," Saballos said.
Varney said there are about 18 to 19 students living on the ranch for the academic school year, which starts in September and ends in June.
Junior Ashlee Bowen, president of the Young Life: College club said each semester  they visit the school and have different assignments to complete. This last trip they painted a few rooms.
"We do all the meals with the kids. After lunch we played soccer with them and [there are] camp fires usually at night," Bowen said.
Varney said outside sources help fund the club and trips.
"Young Life: College is part of an organization called Young Life and it's a nationwide organization," Varney said. "So we work with the Conejo Valley director and work with the funds and budget. We have an outside source that gives us funding."
Varney said the trip costs more than the $125 the students spend to go on the trip.
What the students didn't pay for the outside organization of Young Life: College paid for.
Varney said if they need more money they take it out of the Cal Lutheran budget that's available to the club.
Junior Katelyn Clegg has been part of the club since her freshman year. This was her first time on this trip.
"Honestly, at first I was extremely terrified because I've never been out of the country before," Clegg said.
Bowen said one of the greatest memories about the trip was when they went to church with  the children. The church service consisted of three languages; Spanish, English and sign language.
Kondrat said she felt connected with God, herself and the community on the trip.
"We take time to reflect on what we've done and what we want to do," Kondrat said.
Clegg said she found the whole experience amazing and felt that God was with them the entire trip.
"I'm definitely going both fall and spring. I'm hooked," Clegg said.
"Every night we have a worship and we just reflect about the day. We communicate with each other and we pray," Varney said.
Varney said this has been her fifth time to Mexico and volunteering at Ranch Sordo Mudo. She said she plans on going back in the future and said everyone is welcome to join.
Wais Niazi
Staff Writer
Published February 25, 2015