On Wednesday We Wear Ashes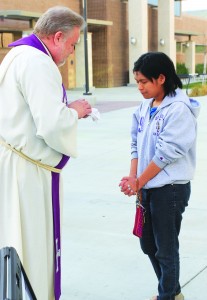 On Feb. 18 students were provided with the opportunity to recognize Ash Wednesday all over the California Lutheran University's campus, thanks to Campus Ministry.
"Ash Wednesday is a reminder that Jesus died for our sins," Lord of Life member Allison Norton said.
Campus Ministry went mobile on Ash Wednesday and took one of its main traditions to the student body.
Members of Campus Ministry held the Imposition of Ashes, which is the tradition of marking a cross on a person's forehead with ashes, all over campus from the Samuelson Chapel to the Swenson Center.
"It is truly amazing when people will wander up and say 'Can I get ashes?'" Pastor Scott Maxwell-Doherty, one of Cal Lutheran campus pastors said. "We want to make it as available as possible, rather than restricting it to one place, at one time, in one location. We want to make it highly available."
Students of all faiths met with Campus Ministry at the many locations around campus and participated in the Imposition of Ashes. Maxwell-Doherty said the Imposition of Ashes was based on two key points.
"Our culture, especially the North American culture, is wrapped around a very clear sense of invincibility and immortality," Maxwell-Doherty said. "Ash Wednesday is the day that we recognize God has God's hand wrapped around that whole business of immortality and invincibility."
The Imposition of Ashes is a tradition for many Christian faiths.
"The sign of the cross [on the forehead] is made to be a very visible reminder that Jesus Christ is the one who moves us from that sense of death, into forgiveness, into life with God."
While marking the head with a cross made of ashes, the pastor said, "Remember that you are dust, and to dust you shall return."
Campus Ministry tends to multiple Christian expressions within the student body, including the Catholic faith. This is why Campus Ministry brought two Catholic seminarians on campus at 6 p.m. on Ash Wednesday to serve the Catholic community.
"We are kind of specific with that community to say we will reserve space and time in the calendar to make that happen because we know that [Ash Wednesday] is a service of obligation for the Catholic community," Maxwell-Doherty said.
Campus Ministry's mobile day served many students.
"I went to Common Ground and I received ashes at Common Ground," Lord of Life member Amanda Hancer said. "When we did communion, Pastor Melissa also gave ashes to anyone who chose to receive them."
Students could be seen walking around campus with ashes on their forehead, some thanks to Campus Ministry.
"It gave people a chance who maybe didn't have a church home that they wanted to go to or that they couldn't make it to, it gave them a chance to still participate in Ash Wednesday," Hancer said.
When choosing the locations for the Imposition of Ashes around campus, Campus Ministry chose locations of high traffic to give as many students as possible the opportunity to participate.
"We look over the calendar of class loads and who is where and when and simply having done this before, you get a sense of who is where," Maxwell-Doherty said.
"It definitely helps with people who don't normally get ashes, they think, 'I can do this,'" Allison Norton said.
Kevin Repich
Staff Writer
Published February 25th, 2015